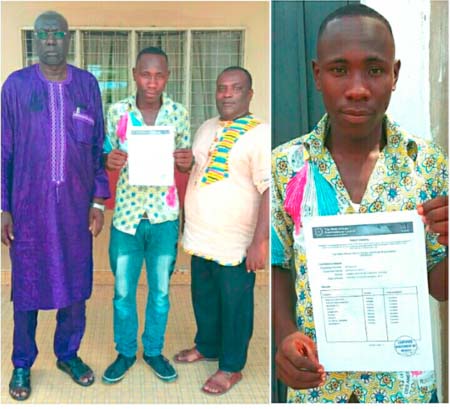 A 19-year-old student of Gambia Senior Secondary School, Dominic Arthur, who hailed from Ghana Town, Brufut Village, has bagged 9As in the West African Senior Secondary School Certificate Examination (WASSCE).

This is the first time since the inception of the Gambia Senior Secondary School, formerly Gambia High, that a student has bagged such impressive result.
Speaking to The Point about the boy's performance, the Principal of Gambia Senior Secondary School, Mr Lamin M.B. Jaiteh, said he was very proud and grateful to both the teachers and the students for the impressive performance.
''I feel very happy and proud for someone, for the first time in the history of this school, to come out with such an impressive result,'' he said.
"We are very happy to have such a score in such international exams," Mr Jaiteh said.
He attributed the school's impressive performance to the high level of professionalism and creativity of their teaching staff, reinforced to carve out desired results from their students.
"We have good professional teachers and the methodologies they adopted, which are not new, like peer and team teaching, summer and extra classes, etc were reinforced," he said.
''We always make sure that we mobilize our teaching and learning resources and make good use of them in order to be able to inculcate in them the basic knowledge that would enable our students to not only pass exams but also to be able to live in any democratic society they find themselves.''
Mr Jaiteh noted that they would neither rest on their laurels nor relent in their efforts as their target is to increase the number of students coming out with 9As in the coming years.
''Come next year by God's grace we will be on top again,'' he said.
For their part, the senior teacher for exams and second vice-principal of Gambia Senior Secondary School, Mr Frank Asamoah and Julius F.S. Conteh, said their school accepts students with low grades with a mission to mould them into the best to be the cream of society and contribute to national development.
''Our students are doing very well because we enroll them based on their needs, mould them and send them back to society for the greater good of all," they said, adding that as a government and community school, they prepare students well so that wherever they enter into this world, they can fit into society.
''We have had Dominic with 9As,and two others with wonderful results, 7As with 2Bs and 5As with 4Bs and these are all students who didn't come here with aggregate 6. People say garbage in garbage out but Gambia High puts garbage in and does not put garbage out,'' they said.
Mrs Christiana Kamara, the class teacher of Dominic Arthur, said that since his enrolment at the school he had always demonstrated a pleasant personality with the vaulting ambition to achieve great things in life.
''Dominic had every good quality one can talk about; he is humble and discipline," she said.
Mrs Kamara expressed gratitude to the administration for bringing a well trained and qualified staff which led to the outstanding performance of the students.
''And we will continue to lift the banner of Gambia High School higher," she said.
The mother and uncle of Dominic Arthur - Aba Kwansima and Seth Freeman Fose - expressed delight and gratitude to their son for making them proud.
''We are so proud of our son Dominic and we are grateful to God for the wonderful result he has got," they said, adding that they didn't expect him to come out with the best result in the whole country.
''As the first and only graduate in our family, he has made our entire family proud," they said, adding that he is very obedient and hardworking.
A resident of Ghana town and neighbour to the family, Mr Kojo Morrison, said Dominic has made the entire Ghanaian community proud and elated for his impressive performance.
Dominic's friends and peers praised him for his impressive performance, saying they expected it, as they have a mission to make their school emerge as the best school in the country.
For his part, Dominic Arthur, said he was delighted to come out with the best result in the country, adding that he exerted a lot of effort in his studying and went the extra mile to accomplish the superb result.
'' I spent sleepless nights and made a lot of efforts to get this result," he said, ascribing his success to self-determination, hard work and prayers.
''I had enough time for myself studying really hard at home," he further said.
Dominic advised his colleagues and juniors to be self-determined and to make serious efforts to study rather than depending entirely on private classes.
He said he hopes to get sponsors to help him study electrical engineering at university in order to contribute and help in the improvement of The Gambia's electricity and energy challenge.
The 19-year-old initially attended Brufut Upper and Senior Secondary School, where last year's best student in the country also hailed from.
The Principal of Brufut Upper and Senior School, Mr Muhammed F. Jabbi, said their school puts more pressure on academic performance by adopting a unique method which emphasizes broad-based knowledge rather than teaching students to just pass exams.
Read Other Articles In Article (Archive)