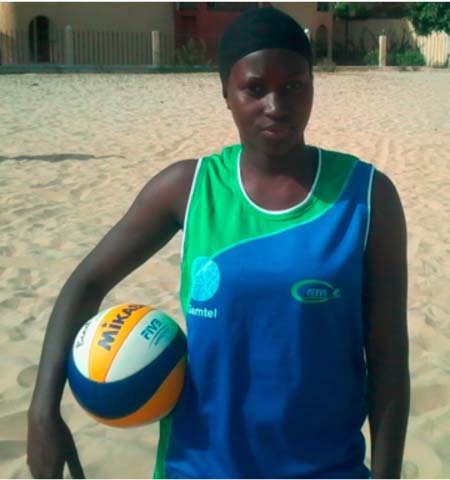 The Gambia's women and men's beach volleyball teams will leave the country tomorrow Thursday for Dakar, Senegal, to take part in the sub zonal preliminaries qualification rounds for the Rio Olympic Games in 2016.
According to a GCBA release, The Gambia will be participating in its first international championship, since the beginning of the Yunusa Barry-led GVBA executive.
The qualification games will be played among four nations in Senegal, as host, and the other participants are Cape Verde, Mauritania and The Gambia.
The tournament was originally scheduled to be hosted by The Gambia, but the host country was later changed to Senegal. It was organized by the Confederation of African Volleyball (CAVB) and will be held from 22 January to 26 January 2015 in Dakar.
"We are all ready to represent the nation in this momentous event," Alfousainey Jarju Secretary General of the GVBA said.
"This is part of the plan to send our national teams each and every time we are invited, and we anticipate that we will come out with an excellent result," Jarju added,and further announced that the trip would be supported by the Gambia National Olympic Committee. The team will leave to Dakar on 22nd January and the tournament will kick off on 23rd January. "We are going to play against different nations with different styles, so we have to prepare comprehensively. There is no need to explain that we will be competing against teams from the best volleyball nations in Africa. I am pleased that we will get to know all the famous styles and the background of African beach volleyball. I am proud, and expectations are really high", Malick Jammeh a senior player said.
Babucarr Jarra, another selected player, thanked the new GVBA executive for the moral and financial support rendered.
"We are representing our country in the Olympic qualifies, where unfortunately I never played in. So I will have to be humble and to play with respect and pride."
Abie Kujabi of the GAF said it is a very tough challenge for them. "We will face great nations with rich backgrounds in African beach volleyball and huge volleyball schools. But we see this championship as a great moment for us. It will be a challenging experience for us, the players, the coaching staff and board and, of course, our country," she added.
The selected players and members of the delegation are as follows: Female players: Abie Kujabie GAF; Saffie Sawaneh GAF; Sainabou Tambedou Gamtel/Gamcel and Fatoumatta M. Ceesay Interior.  Male players: Malick Jammeh Old Jeshwang; Babucarr Jarra Old Jeshwang; Pa Ali Njie Serre Kunda East and Alieu Barry Gamtel/Gamcel.
Coach Ebrima Niass, Referee Yunusa Faye; Head of Delegation Alfousainey Jarju SG GVBA and Press Officer Muhammed L Saidykhan.
Read Other Articles In Article (Archive)