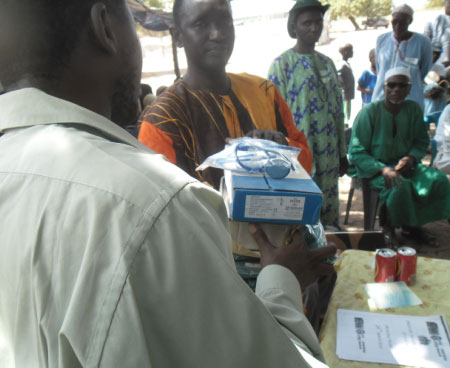 The people of Central River Region, in collaboration with the Regional Health Team, headed by Mr. Jankoba Jabbie recently commemorated World TB Day, attracting over 50 communities from every part of Upper Fulladu West district.
Speaking at the event, Mr. Jankoba Jabbie CRR's Regional Health Director underscored the importance his ministry and its donor partners attaches to the attainment of quality health care service delivery and control of TB.
He said The Gambia joins the rest of the world on every 24th March to commemorate World TB Day. "This year's slogan stop TB in my lifetime and this goes with the theme of calling for a world free of TB," he added.
Noting that TB remains a public health concern, he elaborated on the significant progress being registered, by the National TB Control Programme in detecting and providing treatment to the patients.
Mr. Jabbie asserted that the defaulter rate has declined from 14% in 2005 to 2% in 2012, which amply demonstrates peoples' commitment in compliance of TB treatment. He hailed the enormous contribution of the Global Fund and Ministry of Health in scaling up diagnostic and treatment centres to improve access to TB services and increase case detection, in cooperating voluntary counseling and testing services in diagnostic and treatment centres. 
Ebba Secka, Regional Principal Public Health Nurse said giant steps have been taken towards global targets for the reduction of TB cases and deaths in recent years.
Wandifa Samateh, the Principal Nursing Officer at Bansang Hospital said people have to be healthy to be able to effectively participate in the development process.
As part of the activities marking the day, Mr. Samateh presented health materials to the community clinic of Sareh Soffie.
Fatou Trawalleh, the Lady Councilor lauded the efforts of the national TB Control Unit and Global Fund in complementing government efforts in the attainment of quality health care service, while Chief of Upper Fulladu West District, Seyfo Banu Baldeh thanked President Jammeh and the government for attaching great importance to the health and well-being of the populace. He then called on nurses to be proactive in providing proper counseling to control the spread of the virus.
Read Other Articles In Article (Archive)