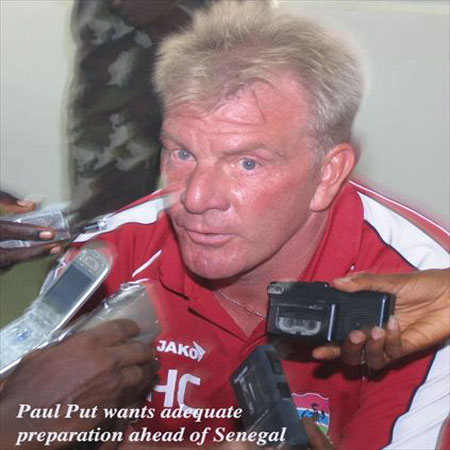 The Gambia continues to maintain its significant record in the monthly FIFA rankings. In the latest ranking for April 2009, the country gained 26 points and are now 69 in the World and 16 in Africa, two spots behind neighbors Senegal.
After recording a total of 491 points, The Gambia moved four places up from 73 in the world to 69.
The Gambia is now two points behind Senegal who are now 13 in Africa and 66 in the world.
Reacting to the ranking, Senior National Team Coach Paul Put, stated that Gambia's position in the ranking is very important.
He said, "looking at where the country came from on the table and where we are today, is a long way and it is as a result of good work within a short period of time. This is a great achievement and we need to maintain this momentum."
"It is important to have friendly games and will be working together with the FA for future friend lies. I am working on one in June in Banjul. I am also planning for another one in August. We can either play in England or any European country", he pointed out.
Senior national team coach, Put, is also preparing a local based team for Zone II championship slated for November in Mauritania.
Cameroon and Nigeria, the top two African sides in Fifa's rankings, have dropped slightly in the latest tables.
Both have suffered from indifferent starts to the final phase of 2010 World Cup qualifying.
Cameroon was beaten by Togo, and Nigeria was held to a draw by Mozambique.
But third-placed Ghana has climbed slightly and Togo and Gabon have shot up the global tables.
Cameroon is now 19 in the Fifa global tables, having dropped three places overall.
Nigeria is down six places to 30, but remains Africa's second-placed team.
Ghana hover one place behind the Super Eagles, having gone up three spots to 31 overall with a narrow win in their most recent qualifying match.
The big winners of this recent round of games are Togo and Gabon.
Togo benefits from its thrilling victory over Cameroon to shoot up 26 places in the Fifa tables.
They now lie at 65 in the world and 12 in Africa.
Gabon is up 15 spots after its victory away to Morocco and now sits at 48 in the world, and six in Africa.
The Fifa rankings take account of matches played over the last two years, with more recent results giving greater weight.
Read Other Articles In Article (Archive)