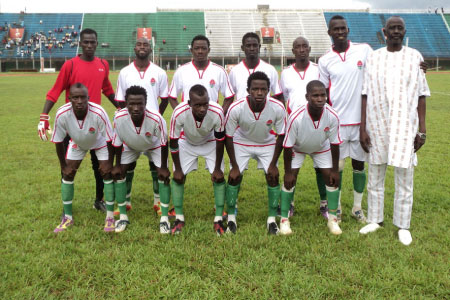 The Gambia Deaf Sports Association under the leadership of Lamin M Ceesay played a return leg with their counterparts in Sierra Leone in a friendly international football match on Tuesday 2nd October 2012 at the National Stadium in Freetown, Sierra Leone.
Gambia's Masanneh Samureh's brace in the early minutes of the game was enough to seal the fate of Sierra Leone's deaf national team.
Samureh scored his first and second goals within 20th minutes into the first half, after a decent pass from striker partner Lamin Drammeh, and powered past his master several minutes later to tap home his third goal, but the left linesman waved it off-side, which was in effect the decider.
Both sides looked sharp in the second half of the game, but the Gambian side looked more inclusive. The Gambian side, especially team captain Abdoulie Njie, defender Alhagie Biram Bah, striker Lamin Drammeh, winger right Bakary Mendy and forward Sulayman Jaiteh created clearer opportunities and took advantage of those chances to put the game beyond the reach of their opponents
The Gambian side also had a penalty disallowed by central referee in 35th minutes of the game, before Sierra Leonean side had their attempt on goal.
Deaf Scorpions coach Alhagie Sanneh said, "the penalty given to Sierra Leonean was obviously false and cheated my team, as well as the nature of good game."
He was impressed by the performance of his boys even through for him the scoreline did not reflect the performance of his boys. He said he should have won the game at least by many goals to nil, but after his boys had three early goals, they did not concentrate any longer.
"Since it should have been five goals to nil instead of just three goals to one, because our opponents were fully supported by their chosen native match officials (referees)," he added.
"Our opponents were not our match in the game; we should have scored more goals, but my boys were so discouraged and complacent when the central referee attempted again by showing them several yellow cards after the goals."
'We have worked with this team before today, so I am not surprised with performance of the boys. If you look at the team, we have many good players including two great players in Captain Abdoulie Njie and the goal scorer Masanneh Samureh. They really assist the team. Njie Plays in second division as well as Masanneh. So they assist us a lot in our game", said Sanneh.
"I would, of course, not hesitate to thank the Gambia's High Commissioner Madani Senghore cdre (rtd) and his staff in Sierra Leone for their hospitality to my team and its officials.
"However, the High commissioner expressed his disappointment, since his office was not notified of our trip from Banjul. I thought that the notification should be sent from the National Sports Council via MOYS, but they failed us.
"I believe that the Gambia Deaf Scorpions can play and defeat any African deaf national team if we receive support and encouragement from our country's sports development authorities, stakeholders and public in The Gambia".
He added that the Deaf Scorpions travelled by road for four days of driving, and were able to beat their opponents 3-1 after relaxing for just a day.
"So I am very sure we are strong enough do more than even our national hearing football teams male or female, who were usual given or rewarded with millions of dalasis for participating in CAF, FIFA, WAFZ tournaments. It is time to consider the national Deaf Scorpion in terms of football development and attaining excellence in sports."
Read Other Articles In Article (Archive)