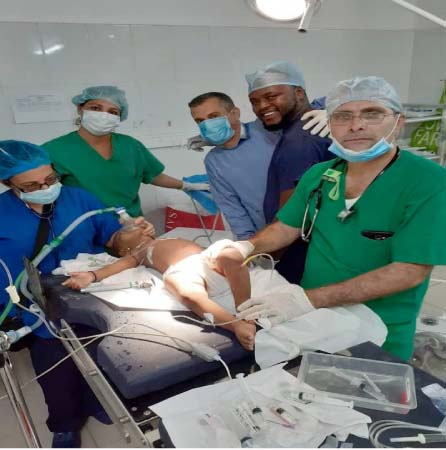 Banjul, Dec. 3rd - A joint team of Cubans and Gambians formed by anesthetists, pediatricians and ENT enjoy today the pleasant taste of having recovered an 11-month-old baby who arrived at the emergency department of the Central Hospital of this capital with acute respiratory failure with danger to life.

The little girl had aspirated a foreign body (a peanut bean) in the lower trachea airway, so it was decided to take it to the operating room for its extraction (bronchoscopy), but it was impossible to pipe the peripheral vein to administer bronchodilators, anti-inflammatories, antibiotics, anesthetics and fluids.
The novelty of the case is that general anesthesia had to be administered intra-bony in the left tibia, procedure that had never been done before in The Gambia. The baby was discharged on December 1st completely recovered and able to enjoy a new year thanks to the professional solidarity of Cubans and Gambians.
Read Other Articles In Article (Archive)