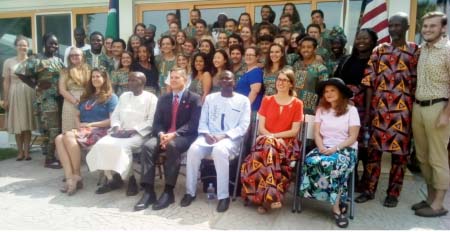 The United States Peace Corps in The Gambia on Wednesday 4 December 2019 swore-in 44 new Agriculture and Health Volunteers, the largest batch to undertake the mission in the past two decades.

The volunteers took an oath of Service, administered by the United States ambassador to The Gambia, Carl R. Paschall at his residence in Fajara.
The swearing-in was the culmination of a two-month intensive, pre-service training programme.
The volunteers will spend two years working in rural communities throughout The Gambia. Health volunteers will address multiple public health needs, including raising awareness on communicable diseases, water sanitation and hygiene while Agriculture volunteers will take part in activities designed to address food security, production as well as environmental protection.
Since 1967, over 1,900 volunteers have served in The Smiling Coast. Currently over 100 volunteers are serving throughout the country. Former U.S. President John F. Kennedy established the Peace Corps on the simple principle that one person can make a difference in the world, and that the people-to-people approach is the best way to promote world peace, understanding, and friendship.
Addressing the volunteers, Ambassador Paschall said the spirit of volunteerism and community service has long been a defining characteristic of American society – "since our country's founding, volunteer work has helped improve people's lives, unite our communities and strengthen our democracy."
"Through your actions and attitudes, your service and your kindness to others, you will show that Americans care deeply about Gambians and are invested in working side-by-side with them for the long term," he told volunteers." "You will make clear in a tangible way how much we respect and cherish our relationship with the people of The Gambia".
In his keynote address on behalf of the minister of Agriculture, Dr. Saikou Sanyang said the priorities of the Agriculture sector have during the decade been redirected to focus on achieving sustainable levels of food security at household and national levels.
He added that President Adama Barrow is personally committed to ensuring household food security and improved agricultural productivity throughout the country.
Megan Wilson, Peace Corps The Gambia country director, commended volunteers for taking a decision she said will not only change the lives of people they work with, but also their own.
She also told them that over the next two years they would be challenged and tested in ways yet unimaginable to them.
Read Other Articles In Article (Archive)