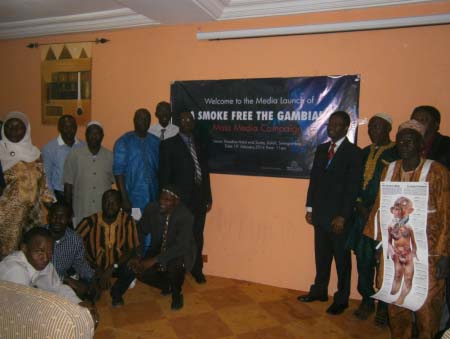 The Minister of Health and Social Welfare, Hon. Omar Sey, Wednesday presided over the launching of "A Smoke Free the Gambia" Campaign on tobacco control, held at the Paradise Suites Hotel in Kololi.
The launching, attended by both the electronic and print media, was organised by the Ministry of Health through its Non-communicable Diseases Unit under the directorate of Health Promotion and Education.
In launching the campaign, the Health and Social Welfare Minister thanked the World Lung Foundation for the laudable initiative and Solar Company for their efforts in making the event a success by developing the campaign materials.
"There is no doubt that the Ministry of Health and Social Welfare strongly believes that effective tobacco control is beyond a single ministry, organization or institution. Hence, the timeliness and importance of launching "A Smoke Free the Gambia" campaign cannot be overemphasised," he said.
Globally, he added, tobacco epidemic kills six million people each year of which more than 600,000 are non-smokers dying from breathing second-hand smoke.
"Unless we act, the epidemic will kill more than eight million people every year by 2030.  More than 80 percent of these preventable deaths will be among people living in low- and middle-income countries," the minister stated.
According to the statistics, tobacco use, particularly cigarette smoking, was on the increase among both the adolescent and adult populations in The Gambia, he said.
The Health and Social Welfare Minister added that a recent research suggests that smoking prevalence in the adolescent population aged 13 to 15 years was estimated at 24.5 per cent, the majority, 28.1 per cent of which are boys, and 31 percent prevalence rate among youth population aged 25-34 years.
An average adult Gambian male aged 25 to 64 years smoke about 10 sticks of cigarette a day, he said, adding that this is indicative of a very high level of cigarette consumption in the country and needs programmes like, "A  Smoke Free the Gambia" which has been launched for smoking cessation.
He said the health risks associated with cigarette smoking and the use of tobacco in general was a worrying situation for The Gambia, as it was shown to be responsible for 5 per cent of all deaths due to non-communicable disease in population aged 30 years and above.
He then used the occasion to remind all Gambians and those residing in The Gambia that they all have a responsibility to implement, "A Smoke Free the Gambia" initiative. 
Dr Charles Sagoe-Moses, World Health Organisation (WHO) Representative to The Gambia, thanked the World Lung Foundation for supporting this laudable initiative and the Ministry of Health and Social Welfare for implementing it.
He described the move as a giant step The Gambia has taken in fulfillment of its obligation to the implementation of the WHO Framework Convention on Tobacco Control (WHO FCTC).
Read Other Articles In Article (Archive)