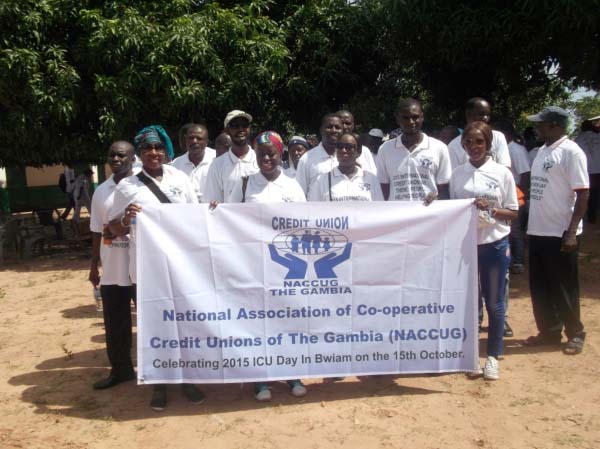 The National Association of Co-operative Credit Unions of The Gambia (NACCUG), umbrella-body of credit unions in the country, on Thursday celebrated the International Credit Union Day (ICU).
Held at Fatima Senior Secondary School in Bwiam, Foni Kansala District, the celebration brought together representatives of various credit unions, government officials, private sector operators and a cross-section of the society.
ICU Day, the third Thursday of October, was set aside by the World Council of Credit Unions (WOCCU) to recognise and promote the importance of credit unions globally.
This year's celebration was held on the theme: 'People helping people' and it put emphasis on credit union's positive impact in the lives of the people around the world.
NACCUG Board Chairman Edrissa Bojang said the theme for this year is a longstanding credit union philosophy and ethos that people can improve one another's financial and socio-economic wellbeing by working together.
He said staging a celebration on ICU Day helps NACCUG, as an affiliate of the World Council of Credit Unions, to contribute to the global goal of adding at least 50 million new credit union members worldwide, by the year 2020.
During last annual general meeting of NACCUG, it donated D10,000 to Bwiam community radio, another D10,000 to the Ebrima Sallah Quran memorisation school in Bwiam, and bed sheets with other items to the Sulayman Junkung Jammeh Hospital.
Mr Bojang said despite a slow growth, the saving portfolio of the credit unions in The Gambia stood at D672 million, as at December 2014.
The secretary general of Foni Kansala credit union, Bakary Bojang, said credit unions have extensively reached a wide segment of the population with their innovative financial products at affordable rates, and globally.
He said credit unions are very crucial in the promotion of the culture of savings in their membership such that high value investment can be undertaken.
According to statistics, there are more than 50,000 credit unions in about 100 countries serving more than 200 million people.
Mr Bojang noted that in past 20 years, credit unions in The Gambia have signified their existences by helping their members in various sectors such as agriculture, education, health, construction and entrepreneurship.
He called on The Gambia government, the Central Bank and NACCUG to pursue further links with partners in addressing challenges on capacity building of member credit unions for effective service delivery. 
Read Other Articles In Article (Archive)