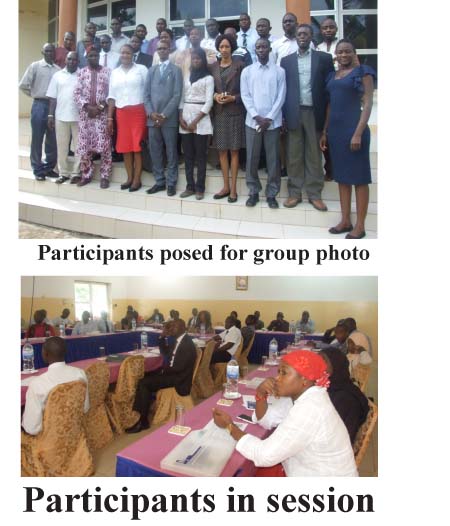 The Gambia Financial Intelligence Unit (FIU) has recently empowered insurance companies and agents with the necessary knowledge to protect their businesses from being misused to launder ill gotten gains.
For five days, 12 – 16 October 2015, FIU schooled the insurance practitioners on the twin financial crimes at a workshop held at the NaNA conference hall on Bertil Harding Highway.
It was as part of a series of training sessions the FIU is to conduct for stakeholders including insurers, bankers, regulators and lawyers with the financial backing of the African Development Bank.
During the training course for insurers, the participants were introduced to the concepts of money laundering and terrorism financing (ML/TF); anti-money laundering and counter financing of terrorism (AML/CFT) regulation and supervision, and domestic AML/CFT frameworks.
They were also taken through ML/TF risks; customer due diligence in insurance business, predicate offences of money laundering and terrorism financing; misuse of companies to launder ill-gotten funds, and possible sanctions for non-compliance with AML/CFT frameworks.
Yahya Camara, director general of the FIU, said having undergone the training, the insurance officials are now au fait with their functions as far as the AML/CFT Act and related regulations and guidelines of The Gambia are concern.
He said as part of measures to tackle money laundering, all the insurance companies are obliged to appoint compliance officers, put in place internal control measures against money laundering, practice customer due diligence and undertake risk assessment of their transactions.
Mr Camara said the FIU now expects to receive reports of any transaction that the insurers have reasonable grounds to suspect could be linked to either money laundering or terrorism financing.
He told the insurers that they should always be on the watch out for customers who are reluctant to provide indentifying documents, when purchasing insurance policy.
Customers who emphasise secrecy of their transactions should be reported to FIU forthwith for there could be something fishy they may be hiding.
The FIU director said the overall aim of the training activity which is to have a general understanding of money laundering and terrorism financing in the industry has been achieved.
He noted that the participants have exhibited some understanding of the twin financial crimes and their roles in combating them.
One of the participants, Pierre Walter Chery, head of admin and marketing at the Gambia National Insurance Company, said they started the training course as novices in money laundering.
Giving a vote of thanks at the end of their training, he said they are now au fait with not only money laundering, but also with the ways and means to prevent it in the insurance industry.
Mr Chery assured all that they will endeavour to implement what they learnt during the five-day training course.
Read Other Articles In Article (Archive)