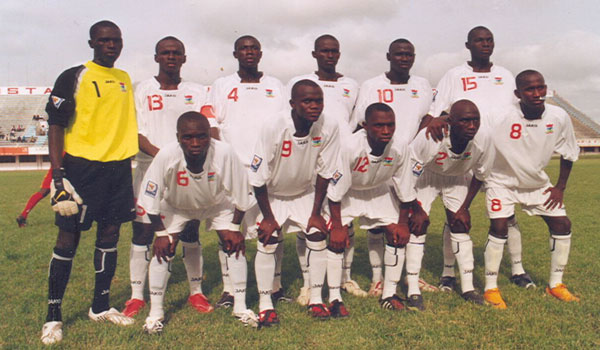 Following the Baby Scorpions 1-0 victory last Thursday over Guinea Conakry in the 8th edition of the CAF under 17 championship in Algeria, the team yesterday registered yet another victory over Cameroon.,with a scoreline of 2-0.
The first half of the game was a real physical match between the two teams. During the first 15minutes of the game, the Cameroonian players tested the Gambian players who adroitly did not allow them to settle on their half. In the 20th minute of the first half, a deceptive header by Dawda Ceesay confused the Cameroonian defence which eventually resulted in a goal for the Gambia. However in the first half, Cameroon's danger man Vincent Abubacarr, tested the Gambian goalkeeper and team captain Musa Camara on several occasions but Camara's high level of concentration in the game did not allow him to hit the Gambian net.
During the second half, both teams were hungry for goals, while the Gambia was eager to add to their score.  Cameroon was also trying to level the scores but the Gambian team did not allow them any breathing space let alone a goal. Luckily for the darling Scorpions Alasana Camara in the 29th minute of the second half, registered the second goal for the Gambia. His goal came through a defensive error from the Cameroon team,  in the dying minutes, the Cameroonians tried every effort to come back to the game, but the Gambian team frustrated all their efforts with very active defensive surveillance and active, well coordinated defence.
In the second game, Algeria beat Guinea Conakry 1-0 which gives them a ticket through  to the Semi-Final stage of the tournament.
The Gambia now tops Group A with 6 points and three goals from two games played so far, whilst Algeria secured second place in the group with 6 points and two goals.
Guinea and Cameroon are now out of the tournament.
Gambia will play the host Algeria on Wednesday in their third Match.
Gambia and Algeria have qualified for the FIFA U17 World Cup to be hosted by Nigeria from 24th October to 15th November later this year.
Read Other Articles In Article (Archive)