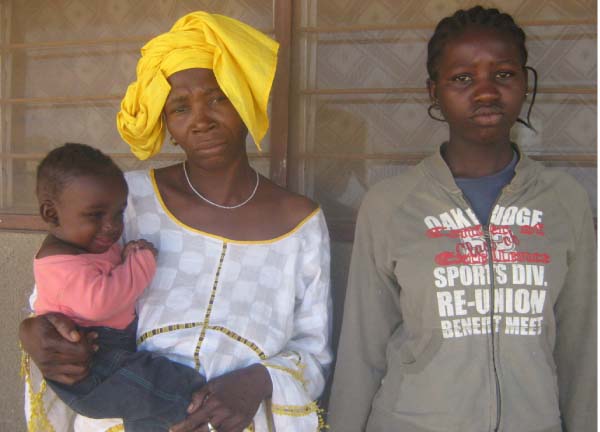 Three more families mainly from the West Coast Region are the latest beneficiaries of the gestures of the Gambian Association Houston Chapter (GAHC) based in the United States of America.
The beneficiaries, a 15-year-old Grade 7 student of an insane woman in Lamin, Kombo North district; Jarra Kunda family in the village of Busura; and one Isatou Manneh, a widow in the village of Serrekundanding in the West Coast Region, received a total of D4,500.
The gesture, which formed part of the association's "Feed a Family" project that contributes towards alleviating poverty in the country and nation-building, followed similar presentations to needy families across the country since November last year.
While presenting the funds to the targeted recipients on behalf of the association's president Muhammed Saidykhan, The Point's editor-in-chief Baboucarr Senghore, who is the official representative of the association in The Gambia, commended members of the association for the noble and invaluable initiative.
The project, among other things, seeks to provide assistance to families in rural villages who otherwise have very little access to opportunities for basic necessities.
"The community seeks to maintain this gesture as an ongoing initiative with more assistance to be delivered to selected families on a monthly basis," said Mr Senghore, who serves as a trustee in identifying deserving beneficiaries for the assistance in targeted populations.
He disclosed that the number of people to receive assistance each month may range from 1 to 3 depending on the amount raised in a given month and the situation and need of the individuals, which may require the total sum to go to one family.
The amount of funds to be given to needy families, he explained, might vary from month to month based on how much the GAHC is able to raise in a given month.
"This will go a long way in solving some of their needs," Mr Senghore said.
 In receiving the gesture, Sarjo Ceesay, guardian to Jonnie Ndure, a grade 7 student of Banjulinding Upper Basic School, commended the GAHC for the gesture, describing it as timely.
The donated sum will go a long way in helping the student get some of her needs at school, she said.
"This is really timely because for the past two months, my child has not been able to go to school because she was lacking in some key stationery and learning materials, which kept her out of school," she said, calling on other associations to emulate the GAHC.
"I must say that this came at the right time because even feeding has been very difficult for me and my children," Isatou Manneh, a widow in Serrekundanding village, said of the gesture.
She commended the association for the gesture, while calling on others to emulate them.
All the other beneficiaries commended also the association for the timely gesture.
Read Other Articles In Article (Archive)