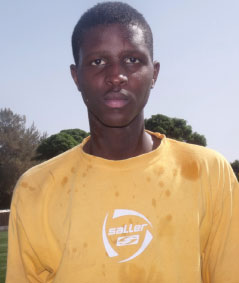 The Gambia National U-20 team has added strike-duo Ibrahim Kanteh and Musa Manneh in their rank as they continue with their preparation for the indefinitely postponed Caf African U-20 Youth Championship at the Brikama Box-Bar Mini-Stadium under the guidance of coach Lamin Sarr.
Ibrahim Kanteh is a 19-year-old lanky centre-forward who plies his European trade with Salt FC, a second regional football club in Spain.
Kanteh, who is currently attracting interest of another regional football team in Spain Can-gibert FC, was called up to try his luck with the Darling Scorpions together with his compatriot Musa Manneh, a 19-year-old versatile player who recently ended his 8-year service with the English League one side Leyton Orient.
The foreign-based duo both looked sharp following an impressive performance at the team's training centre in Brikama yesterday and has vowed to fight hard to secure first team places in coach Lamin Sarr's  star studded squad.
Both strikers recently received invitations from the Gambia Football Association and have since their arrival few days ago begun trials with the Darling Scorpions who are preparing to face big guns like Cameroon, Nigerian and Ghana in the group stage of the upcoming Caf African U-20 Youth Tournament.
Kanteh, who moved to the Spanish outfit Salt FC at the age of 7, said: "I was called to come to The Gambia to have a trial with the Gambia National U-20 team by the Gambia Football Association few days ago and I am ready to fight hard in order to secure a first team place."
Manneh, who switched to Thurrack FC from Leyton Orient last November, is also aware of the stern competition he will face in order to secure a regular 1st team action with the darling U-20 team.
He said: "My desire is to break my way into the Gambia national U-20 team for the Caf Youth Championship even though it will be difficult considering the good players in the team."
Manneh, who can also play as a left back, moved to Leyton Orient in the English League One side in the season of 2002-2010.
He ended his eight-year stint with Leyton side and joined another League One outfit Thurrack FC last November.
Born in Birmingham, the UK, Manneh, who played in various tournament s during his spell with Oleyton Orient including the English FA youth cup, once had a beautiful taste of the Premier League reserved team football with Aston Villa as a 9-year-old teenager.
Caf has recently announced the indefinite postponement of the 17th edition of African U-20 Youth tournament which was scheduled to kick off on 18 March and finish on 1 April in Libya.
The move has been taken because of what Caf called "security concerns and the current unstable political situation" in Libya.
According to a statement from Caf, a new location and timescale will be confirmed in the next few days.
The semi-finalists at the youth tournament will be Africa's representatives at the U-20 World Cup slated for 29 July to 20 August 2011 in Colombia.
Read Other Articles In Article (Archive)