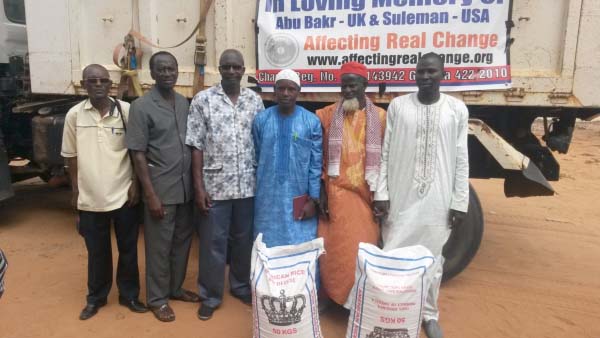 (Friday Issue, 1 July 2016)

Affecting Real Change, a UK registered charity, in collaboration with the Gambia Supreme Islamic Council (SIC) on Tuesday distributed 405 bags of 50kg rice to various Muslim communities in remote areas of North Bank Region and South Bank.
This year's donation was in remembrance of the loving memory of two volunteers of the organisation who died in UK and USA, Abu Bakr and Suleman, respectively.
Speaking at the presentation, held at SIC conference hall, secretary general of Affecting Real Change, Musa Saidy, said last year, the charity gave out 165 bags of rice to needy Muslims but this year, the number has been increased to 405 bags.
He said both last year and this year's donation are provided by the same person, Mr. Nasir Husain.
SG Saidy said Mr Husain lost a friend this year called Abu Bakr, a British Muslim who died months ago in the UK, leaving his wife. In the same month, he said, Husain lost his cousin, Suleman, in a fatal car crash in America.
Saidy said the names of the deceased are displayed on the banner of the donation so that the rice that was been distributed will give peace and blessings of Allah to the two individuals.
He pointed out that they have plans to reach out to all the Muslims and by extension to all needy in The Gambia.
SG Saidy said Affecting Real Change and its collaborators are in for food security, health and education in a bid to complement the government's efforts in such areas.
"We are always appreciative of The Gambia government for the support being provided to the organisation and for the enabling environment for the organisation to invest on the needy Gambians," he said.
"We really thank the government and the people of the Gambia and the donors in UK and USA who are helping us to give support to the needy Gambians especially at this point in time of the Ramadan.
Lamin FM Jaiteh, a beneficiary, said the donation is "a laudable gesture", adding that Islam is all about caring and sharing.
"This is worthy of commendation," he said, while thanking Mr Hussain and all those who have a hand in getting the donation to the needy Gambians.
Mr Jaiteh said the donation been sent from UK and USA "is a clear indication that Islamic religion do not have any boundary".
Read Other Articles In Article (Archive)