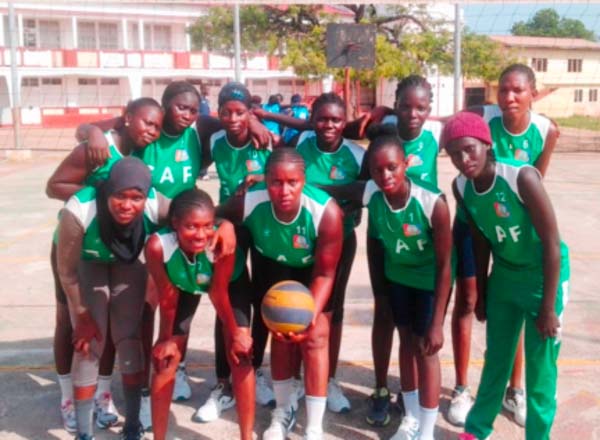 Gambia Armed Forces female volleyball team went down in the history books Sunday after they outclassed Interior 3-0 (25-21, 25-23, 25-19) to win the national league with two games to spare, becoming the only club to have won the trophy 3 times in a row.

Led throughout by an inspired Sergeant, GAF ran away with the first set, thrilling the record under a teeming crowd and scoring 25 points in 15 minutes.
But Interior reacted in the second set and with Kumba Jawo and Fatoumatta Ceesay on the service line flew to a 3-point lead.
GAF did claw their way into the game, closing in at 12-10, but the hosts kept them at bay to tie but could not hold on the lead and at 25 -23 they lost after two lopsided sets to make it 2-0.
At the teeming Banjul ground, Interior had threatened to make a nuisance of themselves in inclement conditions, but two quick-fire first-set points and another two in the second sets and the final round established Sgt Lamin F. Bargie on his way to a third league title as GAF boss.
Victory was deserved for the soldiers, always in control against a side that rarely threatened. GAF fans would hope this is many trophies to come this term and beyond. It was the result Coach Bargie would have wanted, or deserved, but there was entertainment all the way.
In the male event, the soldiers revenged their 3-2 home loss to Interior in the first round to beat them 3-1(25-22, 18-25, 25-13, 25-23) this time in Banjul.
GAF enjoyed a first-set win at 25-22. Interior enjoyed a slight lead until midway, leading by two at 8-10. But it was then that GAF got going. A first timeout by Staff Sgt S.O. Bargie at 10-10 did nothing to stem the flow, as Interior kept pounding from the service line.
A second timeout at 12-10 and a tip by Ebrima Jaiteh behind his head got Interior back in at 12-11 and their constancy was merited to win the second set 25-18.
After the side out, Alieu Barry stepped up to the service line, Pa Gaye tipped the ball in for 14-11 and Barry himself unleashed a thundering ace on Interior's blockers to seal the deal, though the young interior side had blocked couple of spikes from Barry.
The victory had given GAF male team a big life time opportunity to win the league for the first time under Saikou Omar Bargie if they avoid defeat next weekend.
Meanwhile on Saturday Gamtel/cel male team was in action against Serrekunda East in Banjul.
Serrekunda won amidst controversies involving Gamtel/cel's Captain Sanu Secka who attacked the assistant referee Ebrima Ndow and disrupted the match, the game was called off on the spot and 3 points with 3-0 victory was awarded to the opponents.
Earlier on the same day the women team of the telecom giants beat their opponents 3-0 as well to now compete second place in the National league against Interior.
Earlier on Friday YMCA lost to Brikama 3-0, while Fires Services were given 3 points against Kotu, as the opponents failed to appear at the ground on Sunday.
Read Other Articles In Article (Archive)