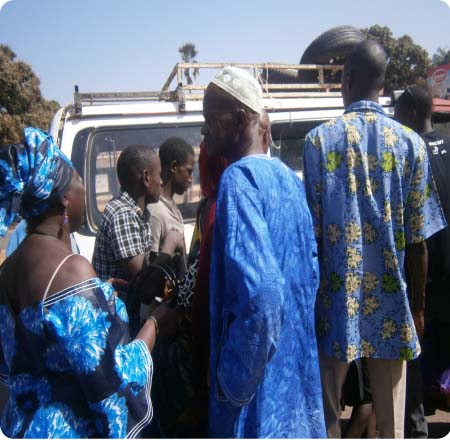 As the country grapples with another fuel scarcity, there are reports that a supply ship laden with fuel has docked at Banjul seaport.
However, the same reports indicated that as the fuel supplier and importer work on the business of delivery, it was not clear when this fuel would reach the filling stations and ease the increasingly acute situation in the country.
It was not possible yesterday to reach and confirm this with officials of Gam-Petroleum, the company responsible for the importation of all fuel into the country.
Gam-petroleum claims that it "now operates the sub-region's largest oil and gas storage container facility, which is set to boost supply not only in The Gambia but also in neighbouring countries".
Yet since last week, there has been talk of a looming fuel shortage, reportedly due to the late arrival of the next supply vessel in the country.
The Gambia is dependent entirely on imported fuel to meet the country's energy needs in all sectors, including for the heavy fuel used for electricity generation.
Meanwhile, the situation is taking its toll on public transportation and the movement of commuters.
Many commuters are stranded these days for long, as they wait for taxis to transport them to various destinations in the Greater Banjul Area and beyond.
This is evident along Kairaba Avenue, the Westfield-Cooperative area and Serrekunda to Brikama highway, as well as the major car parks.
Among them were school children and civil servants, and many others who leave their various homes and go to town in search of the daily bread.
Those living in far away places are more affected, as the drivers coming from Banjul only stop at Westfied Junction.
Drivers from Westfield also stop at Tallinding and Tabokoto, making it difficult for those going to Brikama and beyond.
Some commuters spoke to our reporter, and expressed great worry about the effects of the present crisis.
Speaking at Westfield Junction, Sanna Saidykhan, a student, said these days he walks from Sinchu Alajie village to school, since the fuel shortage started.
Taxi drivers are saying that there is no fuel in town, and they prefer to use the little for passengers who hire them for "town trips".
Amadou Jallow, a driver I met on Tuesday at one of the Galp filling stations, said he has been to all fuel stations in the area, since in the morning, searching for fuel. Something needed to be done to remedy the situation, because their livelihood is affected, he added.
Momodou Jabbie, another driver said so far he was coping with the situation. Jabbie said when he suspected there will be a fuel shortage, he filled his containers and stored the fuel.
However, he was afraid that if things go on this way, most taxi drivers would be forced to park their vehicles, which would be very bad for everyone, drivers and commuters.
He said they were told that the ship bringing fuel would be landing soon, but so far the situation remains the same.
Matty Touray, a student, said they have been affected too, as they reach school late and return home late.
She revealed that the school bus service could not rescue them, because when the bus comes from Banjul, before it reaches them, it was already overloaded.
A lady called Fatima Jallow said the fuel shortage has caused a scarcity of commercial vehicles on the road.
Fish mongers, who travel to buy fish from the coastal villages and then come to sell fish at the market, are among petty traders affected.Thus, the price of fish increased.
One Alpha Khan, an economics tutor, confirmed that the shortage of fuel could cause inflation in the country.
He said it would also affect productivity, as workers get to work late, and clock less working hours.
Our reporter Halimatou Ceesay contributed to this report.
Read Other Articles In Article (Archive)