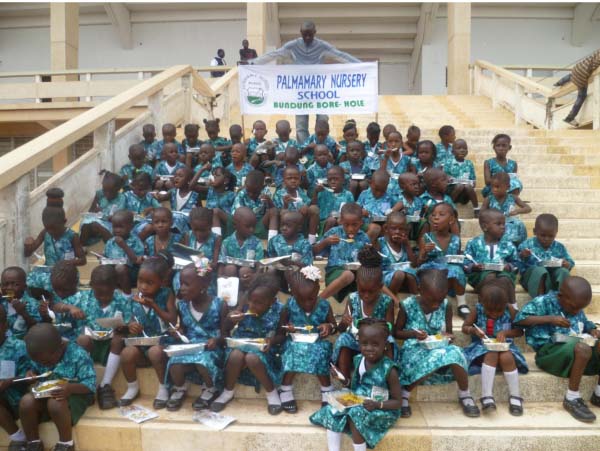 Palmamary Nursery and Primary School in Bundung Borehole on Saturday 15 March 2014 organised an epoch-making inter-house sport at the Bundung Police Station grounds.
The four main houses involved in the sports were Red house, Blue house, Green house and Yellow house.
Green house, which took first in the overall inter-house sport, got 252 points. Red house emerged second with 234 points, Yellow house third with 232 points and Blue house fourth with 216 points.
The events included 50m infant boys and girls, 100m junior boys and girls, filling the basket, lime & spoon junior boys and girls, carrying the baby junior girls, tug of war infants & junior boys, and junior girls relay.
Pupils at the intermediate and senior level took part in 100m, 200m, 400m relays, sack race, two legged race, long jump, tug of war (mixed) and musical chair.
Giving a brief background of the school, Palmamary Nursery and Primary School Proprietor and Director Abass Koroma said the school started in 2004 in a village called Mandinary in Lamin.
"I was there for three years," Mr Koroma explains. "In the second year of the school the kids were being promoted and transferred to Mandinary Lower Basic School and in the third year l realised that all my kids being taken to that school were doing extremely well to the surprise of everyone, as I was getting feedback from their parents.
"I then left the village for the Kombos where I started the school in 2007 with the main aim of complementing government's effort at providing quality and affordable education to children in The Gambia.
"As a pan-Africanist, I hold true to the philosophy and truth that the progress of a nation can never be swifter than the progress of her education. I know very well that Africa is endowed with a lot of resources and riches but lack of education is costing us a lot and to a large extent responsible for our backwardness.
"I therefore took the bold step of giving my life to learning and providing education for children so they would get sound primary education and use it as basis for further education.
"Coming to the Kombos I struggled for a while to re-establish the nursery school, and thank God I have also got another certificate from the education department and authorities in the country to carry on with a primary or lower basic school as I continue to provide education in environments conducive for learning, to give a strong foundation to our future leaders in this country and in Africa."
Mr Koroma also said the school, which started with few pupils, today has a registration of about 250 children.
Speaking to The Point, some of the parents whose children are attending Palmamary Nursery and Primary School said the school is giving quality and affordable education to their kids.
Bakary Mamba, Eric S. Sourie and Awa Cham, among other parents interviewed, said Palmamary School is one of the best schools in The Gambia.
"It has been of great help and improvement to our children both in education and in conduct," said Mr Bakary Mamba.
Read Other Articles In Article (Archive)