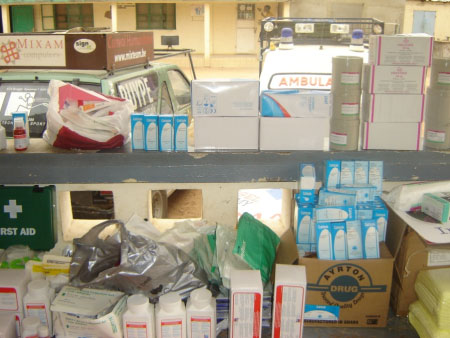 People of Gunjur in the West Coast Region on 4 April 2011 received some medical items from Friends of Gunjur based in England.
The items donated to the community were presented at a ceremony held at the health centre in Gunjur.
Ananda Boyce of Brinton Church of England Primary School and Jenny Thom of Buckle Bury Church of England Primary School are teachers in these schools that have set up a fund called the Gunjur community fund to support the people in the coastal village.
According to Kebba K.K. Barrow, the donors' host, Amanda and Jenny first visited Gunjur in 2009 and did agree to support Gunjur Lower Basic School, the community nursery school and the women's garden.
He said that in 2009 they provided funding for the fencing of the vegetable garden with seeds and equipment.
He added that last year they also provided more support of funding to the vegetable garden.
This year they are supporting Gunjur Health Centre with essential drugs like quinine, paracetamol, amoxicillin, masks, St Ethoscope, a blood pressure machine, cortisone, gowns, needles, and syringes, said Mr Barrow.
He thanked on behalf of his family and the people of Gunjur the donors for the support they have been rendering to the village.
For Amanda Boyce is a pleasure for them to be in The Gambia, particularly in Gunjur, to help out the people in need.
This wouldn't have been possible without the generosity of their host K.K Barrow, she said, adding that they are hoping to do more for the community in the coming years.
She also called for regular update on the progress of the projects, saying such reports would help them back home.
For his part, Alhajie Sulayman Touray of Gunjur thanked the donors for their effort, asking them to see Gunjur as their second home.
In his statement on the occasion, Faburama Jambang, officer-in-charge of the health centre, said they were very pleased about the gesture.
"Drugs are very expensive and the Government alone cannot do it all," Mr Touray said.
Read Other Articles In Article (Archive)