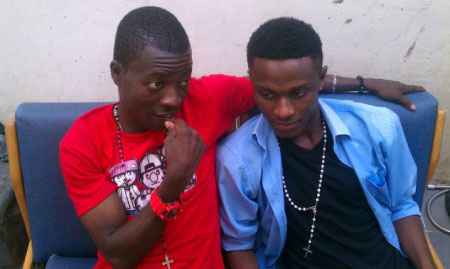 Two rap musicians, Mofly and Youna Joex, who are making waves in the country, are busy putting finishes touches to release their first album.
Their initial singles are entitled Jangha-Bi, I need love and Halis Boy.
Speaking in an interview with Entertainment at the weekend, Fresh Boyz said they represent The Gambia in the world of music, adding that they have also come out with promotional package which has six demos.
The young talented music star told Entertainment that music was their hobby since the time they were going to school.
According to them, being a young musician, to be accepted by everyone is a big challenge.
"Our plan in the future is to develop the Gambian music and take it to higher heights and we pray to God that we change the industry by bringing something new," says Fresh Boyz.
Fresh Boyz has been performing on stage at Choosan, Duplex Night Club and Seaview Hotel to entertain music lovers.
"We have a video, which is coming as soon as possible," he said, adding that they have plans of collaborating with other foreign artistes.
Touching on their educational background, the two musicians said first attained their primary education in Ghana and finally completed their education at Gambia High School in 2011.
Music is not something easy, they say, adding that one should not rush to it.
Fresh Boyz therefore thanked their manager Adams for the wonderful support he has been giving them.
They also thanked their fans for the support while calling them to keep the momentum.
Read Other Articles In Article (Archive)