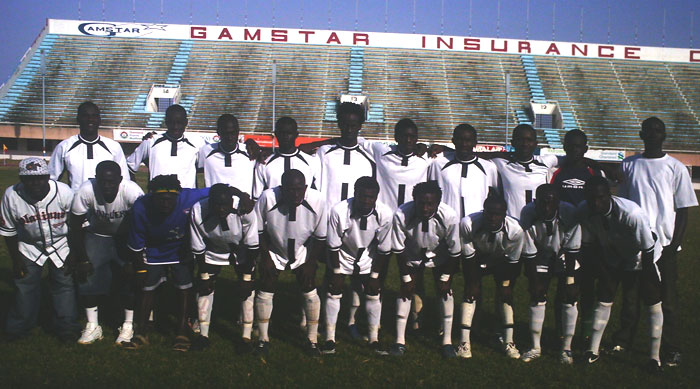 Njogu Demba Academy, Linguere, Milan and Smiling Coast are all in a great danger of qualifying to the second round of the ongoing Bakau Nawettan which is currently gaining momentum among the participating teams, after what could be called a poor start to the championship by the struggling four (4).
Linguere had one of their worst performers of the campaign after a second consecutive defeat which led to speculation that the recently crowned super cup champions would need extra-ordinary performances to be guaranteed a place in the next stage of the summer championship when they meet Mamakoto and fellow strugglers Smiling Coast in their next encounters.
If Linguere concedes any further defeat, they will be certainly relegated from the top flight Nawettan football. The defeat to Vidar and bitter rivals Unique FM in their opening fixtures left the last year's league cup winners in a desperate situation to qualify to the second round of the competition but despite that, both the players and the technical team are hopeful of recording another historic back-back league title.
Despite making a late qualification from the just ended qualifiers, Njogu Demba Academy's performances in both the qualifying round and the Nawettan proper has not being satisfactory as manifested by their recent embarrassing start to the summer championship after conceding two defeats in a row.
The Youngsters began the Nawettan with two consecutive lost in a row.
They conceded their first defeat to Magadan by two-goals to one before proceeding to slip in the hands of Bantankoto that failed to snatch a victory in their opening match when the rejuvenated KWT side entertained them to a hard-fought one-all-draw in a game that has proven to be an action-packed encounter, a fortnight ago.
Coach Badou Conateh, who blamed his Milan side for failing to work according to his instruction are also enduring a difficult start to the summer championship, with two consecutive defeats against Saul Samba and Ron-Mango, respectively.
"I am totally disappointed with the performance of my team because they did not listen to what I told them before the game," the former U-17 midfield maestro told Pointsport's Lamin Drammeh, shortly after his side's 2-1 defeat to the super cup finalist Ron-Mango, at the Bakau Mini-Stadium last week.
The side needs to put up a good fight in order to berth a place in the next stage of the championship which will also see them escape relegation.
Meanwhile, another struggling side that is also in a terrible situation of a second round appearance is Smiling Coast that could not even manage a victory.
They earlier in the opening fixture suffered a narrow one-nil defeat to inform Unique FM and went again to slip in the hands of return to form Mamakoto that recovered from its embarrassing start to the campaign to beat Vidar FC four-two on Wednesday.
Read Other Articles In Article (Archive)