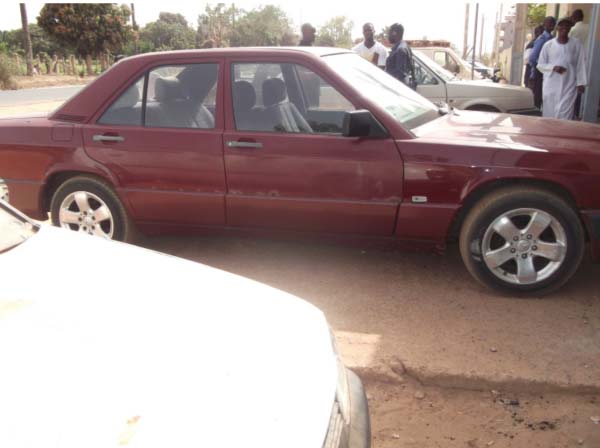 Four suspects, namely Omar Alpha Jallow (watchman), Mamadou Benteng Jallow, the principal suspect, Yankuba Sambou of Kerr Serign and Muhammed Bah, are currently helping the police in their investigation of a recovered car marked 190D Mercedes Benz red in colour, which was allegedly stolen and recovered by the Brusubi police.
According to police PRO ASP David Kujabi, on 7 April 2015 one Tijan Denton filed a report regarding his missing or stolen car.
The watchman was arrested and questioned, but denied knowing anything about the said vehicle.
He said a few days before, Mr Denton discovered that the said car keys were missing, and later asked the watchman to remove the car wheels to ensure the safety of the car, which the watchman failed to do leading to the disappearance of the car.
During the police investigation, he added, it was found out that the principal suspect (Mamadou Benteng Jallow) has a friend called Yankuba Sambou in Kerr Serign.
The police convinced the principal suspect that Sambou had confessed to having the car and took them to his residence, where the car was recovered and later the car keys were later recovered from Muhammed Bah.
According to the PRO, the suspects would be charged for stealing and conspiracy to commit a felony.
PRO Kujabi said they have received several reports of car stealing and house-breaking in Brusubi, and appealed for effective community policing.
Brusubi has house-breaking problems, because many Brusubi residents live alone and have their houses often closed during the day, and the criminals capitalize on such an opportunity, PRO Kujabi said.
Read Other Articles In Article (Archive)