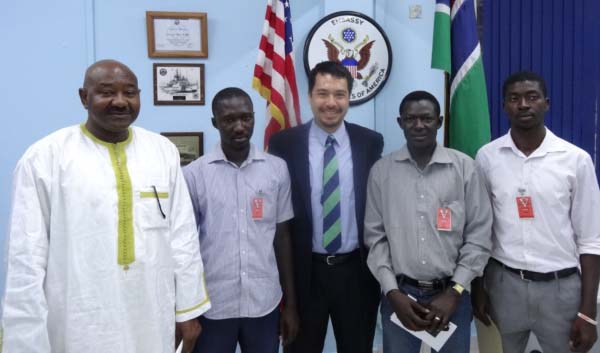 The US Embassy Charge d'Affaires Richard T. Yoneoka, on 6 February 2014, met with four Gambian officials from the Ministry of Justice, Gambia Revenue Authority, and Gambia Police Force.
The four Gambian officials are to attend a U.S. Government-funded Intellectual Property Rights (IPR) course at the U.S. Department of State's West Africa Regional Training Center (RTC) in Accra, Ghana. 
The Gambian officials will join colleagues from Ghana, Liberia, and Nigeria in attending the course taught by subject matter experts from the United States. 
The five-day course that runs from February 10 to14 would provide the participants with an understanding of current regulatory tactics and methodologies used to protect and regulate intellectual property rights.
In addition, the participants would be able to apply contemporary investigative/proscriptive strategies and techniques used to conduct investigations, and/or interdict items that are in violation of IPR statutes.
Participants will discuss IPR related treaties and/or agreements regarding interdiction, investigation and prosecution efforts common within the region and unique to their particular nation.
Participants will also learn how partnerships with industry representatives can aid in the interdiction, identification, and seizure of items, along with the investigation and/or prosecution of individuals who violate IPR statutes.
Read Other Articles In Article (Archive)