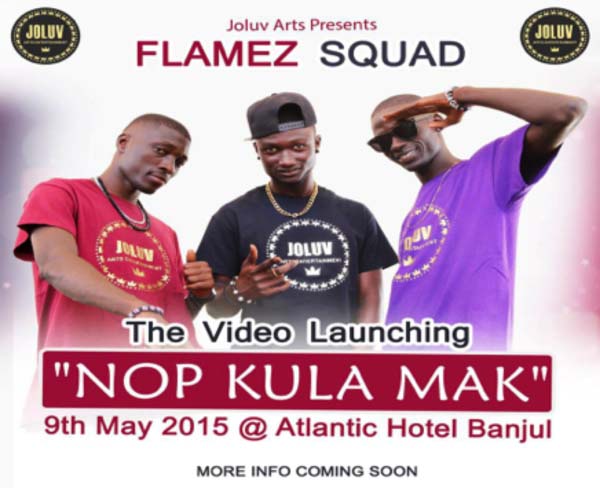 After hitting the airwaves with their brand new single called 'Nop Kula Mak', the new kids on the block, Flame Squad, have unveiled plans of launching a video at a high class stage in Laico Atlantic Hotel in Banjul on Saturday 9th May, 2015. The audio and video of the classic project, both exclusively produced by the mighty Joluv Arts Entertainment, is anticipated to catapult the career of the squad to the next level, as they gear up to firmly stamp their toes on the music scene of The Gambia and beyond. This is the third product Joluv Arts pioneered for the trio, and the partnership bore productive results for the youngsters as it shows a new version of their music which helped greatly in gathering momentum for the group.
Speaking to this paper, one of the musicians of the crew, Baks, described the output of the video as 'standard and outstanding'.
He said since they started working with Saul Sowe, Joluv Arts Entertainment, their products always set standards to accumulate the flavours of not only the home-based audience, but the international platform as well. "I bet the video will be a great one. People will love it. You will put it on replay if you start watching it," Baks concluded.
For Sticky Boss, another influential rapper, all is set for the launching of the highly anticipated video, and that the fans will get the taste of the video when they attend the show as it will be repeatedly played on a projector for the fans.
He said they are ready to make a difference in Banjul, and finally count on the support of the fans in making the event a success.
Dilating on the production, the CEO of Joluv Arts Entertainment, Mr. Saul Sowe, expressed delight about the positive reactions the single has, and promised that the video will be an exceptional one as well.
He said the future is bright for Flame Squad and more developments are in the pipeline.The pioneer noted the excellence of the concept of the video, saying it clearly portrays the lyrics of the song.
Read Other Articles In Article (Archive)