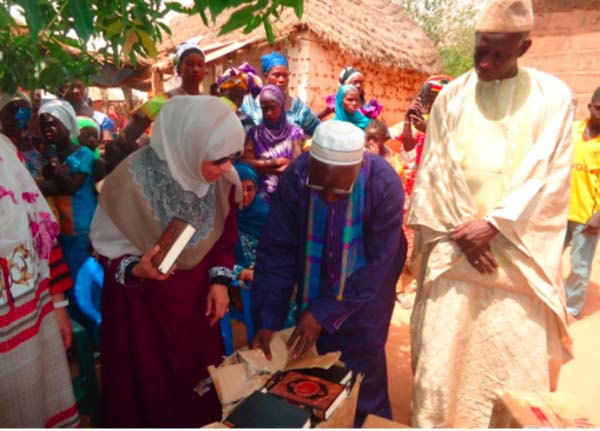 The national counterpart coordinator for Faizan e- Islam charity of Pakistan has spoken of the charity's resolve to promote the teaching and learning of Islam, and improve the social status of beneficiary communities.
Njundu Darboe was speaking on Saturday at the laying of a foundation stone for a new mosque for the community of Kerr Bano in the Lower Baddibu district of the North Bank Region.
He said the mosque when completed would strengthen religious faith, and enhance the learning and teaching of the holy Quran.
He added that the charity provided a clean water supply system for the community of Badibou Gunjur and Jokadou Dasilami to improve the health and well-being of the people.
Darboe thanked the community of Kerr Bano for their invaluable support to Islam and humanity, in general.
Speaking on behalf of the charity, Ms Bader Muneer, a team leader of the charity, underscored the charity's commitment to the promotion and propagation of Islam to enhance lives of Muslims around the world.
She said the mosque is significant in their intervention, noting that it enables people to offer Friday prayers and teach children good moral values in line with Islamic teachings.
The Faizan e- Islam charity distributed 1100 copies of the holy Quran to scholars, imam and women to enhance people's understanding of the Quran.
She said they also built a women's vegetable garden in Busumbala and Kerr Alagie Karu in Jokadou.
Ms Muneer added that every year they provide rice and sugar to Muslims during the holy month of Ramadan.
As part of the community projects, they built schools and provide teachers.
She paid tribute to her late husband for giving her the courage to serve humanity and Islam.
The charity's school in Kerr Alagie Karu houses an orphanage and hired both English and Arabic teachers to contribute to the attainment of education for all.
She thanked parents and the authorities for their support to the implementation of community projects to improve the socio economic wellbeing of the people.
Ms Bader Muneer said the charity has dug 60 wells in The Gambia, Senegal, Somalia and Guinea Bissau, noting that clean water is essential to human health.
Imam Alhaji Alhaiba Hydara of Brikama laid the foundation stone and called for Muslims to be God-fearing and support Islam, as well as thanked the charity for their support to Islam.
Alhaji Kebba Marie Sowe, the alkalo of Kerr Bano, commended the charity for their support in promoting Islam, noting that the construction of the mosque is timely and assured the charity of their full support and cooperation. 
Read Other Articles In Article (Archive)