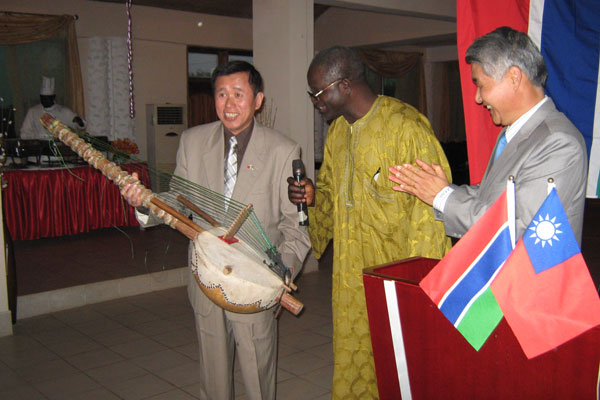 After successfully stayed in the country for over five years, the head of Taiwanese Technical Mission in the Gambia Dr.James Tsay is set to leave the country for good.
Just few days before he leaves the sores of The Gambia, Dr.Tsay was on Friday hosted to a superb dinner by the head of Taiwanese diplomacy in Banjul His Excellency Richard Shih.
The reception is in recognition of his efforts in promoting the country's agricultural development and by extension strengthening cordial ties between Banjul and Taipei.
Speaking on the occasion held at Paradise Suites Hotel, ambassador Shih said "it's difficult to say good bye especially to a good friend who have devoted about six years of his life in this beautiful country; a good friend who instead of most of us who lives in the greater Banjul area, lives in the grass root area of The Gambia".It's my pleasure to have a good colleague like you, says ambassador Shih. He advised the outgoing Taiwanese technical mission team leader not to forget about his friends in the Gambia while in Taiwan.
Seedy Jarju Permanent Secretary for Agriculture applauded Dr.Tsay for his contribution to the country's agricultural advancement. "A friend in need is a friend indeed," referring to Dr.Tsay.
"We owe a lot to the Government of Taiwan for their immense contribution to the socio-economic development of the Gambia", Mr. Jarju said.
Dr. Kujejatou Manneh, Action Aid Country Director said her office had a partnership with the mission for about seven years which they really cherish.
For his part, the outgoing Taiwanese agricultural expert said the day is a moment of mix feelings for him. He commended the government, his team and partners for support and corporation. He emphasized the need for more capacity building for women farmers while advising them to change their attitude from subsistence farming to commercial system of farming.
Talking to the point, Dr. Tsay said he is please that they have accomplished land development for tidal irrigation covering over 600 hectares.
Maimuna Ceesay, a women representative from Central River Region were Dr. Tsay was based, also praised him for improving their status.
The send off party which was punctuated with presentation of gifts by women farmers to Dr. Tsay was attended by cross section of Taiwanese community, UN System representatives and staff of partner institutions.
Dr. Tsay is replaced by Dr. Wei-Ho Lin as Taiwan Technical Mission team leader.
Meanwhile, Point has been reliably informed that Dr. Tsay is going for retirement.
Read Other Articles In Article (Archive)