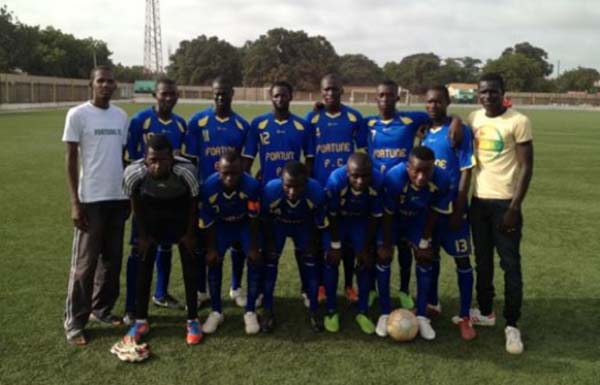 West Coast Region champions Fortune FC of Farato were on Sunday 14 August 2016 crowned champions of the Access to Justice National Football Championship.

This followed a 2-nil win over Kwinella FC in a well-contested final of the national championship tournament played at the Soma Mini Stadium, Lower River Region.
Goals from Modou Senghore and Abdoulie Baldeh in the 6th and 30th minutes of the game were all but enough to earn the Farato outfit a well-deserved victory over their Kiang counterparts.
Fortune FC secured their place to the final after beating Kwinella FC and Diabugu Batapa FC in their opening two games of the championship.
They hammered Kwinella FC 6-1 in the opening game of the tournament played on Thursday 11 August 2016 before going on to humiliate Diabugu Batapa FC 5-0 the following day.
Kwinella FC, on the other hand, advanced to the final after recovering from their 6-1 defeat in the hands of Fortune FC to beat Diabugu FC 2-1 in a well-fought encounter played on Saturday 13 August 2016.
As champions, Fortune FC took home a giant trophy, a cash amount of D40,000 and two footballs.
Kwinella FC, who emerged as runners-up, received D30,000 and two footballs, while a cash amount of D10,000 went to Diabugu Batapa FC as third place holders.
Bully Dahaba of Fortune FC was named the best player of the tournament and as such received D5,000 and a pair of football boots.
Sulayman Krubally of Diabugu Batapa FC was voted the best goalkeeper of the 4-day tournament hence pocketed home D5,000 and a pair of football boots.
Modou Senghore of Fortune FC received D5,000 as the leading goal scorer of the tournament after netting 3 goals.
Diabugu Batapa FC were rewarded with D5,000 as the most discipline team, while Kwinella FC walked home with the best fan-base award of D5,000.
A cash amount of D20, 000 was given to each team for preparation.
The Access to Justice National football championship is part of Access to Justice civic awareness campaign under the EU Technical Assistance on Access to Justice and Legal Education Project for The Gambia.
The goal of the campaign is to enhance access to justice through civic and legal education and provision of information on available justice mechanisms.
The campaign also seeks to promote public awareness on civic rights and duties; awareness on the obligations of law enforcement agencies; disseminate knowledge and enhance confidence in the tripartite justice system.
The key target audience composed of alkalolou, chiefs, imams, women, community leaders, youth, and law-enforcement agencies.
Tournaments were piloted in Brikama, West Coast Region; Kwinella, Lower River Region, and Kurau Arfang/Diabugu Batapa in Upper River Regions.
The tournament was organised by the National Council for Civic Education (NCCE) and funded by the European Union to promote youth participation in access to justice project mechanisms.
The national football championship brought together the three winners of the tournaments organised in the piloted locations.
Jaine Joof, Fortune FC's head coach, said they "deserve to be champions" as his players gave the game the respect it deserved.
He said they capitalized on the opponents' weakness to beat them.
"We were better than them technically and tactically," he remarked but was quick to add that Kwinella are a good team.
Joof commended NCCE and the EU for coming up with such an initiative.
Read Other Articles In Article (Archive)