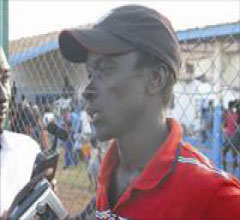 The chairman of the 2012 Super Nawettan Committee has said that the committee has given monies derived from gate takings during the Super Nawettan championship to the zones.
This was revealed in an exclusive interview with reporters, shortly after the 2012 GFA Super Cup final game, between the defending champions Real De Banjul and FA Cup champions Gamtel, at the Independence Stadium in Bakau.
Lamin Camara chairman of the committee stated that for the Brufut and Sukuta match, his committee generated D30,000, and both Brufut and Sukuta received D8, 000.
For the Brikama and Brufut semi final clash held at the mini stadium, Brikama and Brufut each received D15, 000.
For finals between Bakau and Brikama, each received over D100, 000.
The tournament was sponsored by the committee itself.
Meanwhile, according to Camara, the organizing committee has decided to suspend Bakau for two years, after their fans destroyed valuable materials such as perimeter fence, plastic chairs and other materials, when Brikama was leading 3-2.
He added that Bakau will not receive the D30, 000 earmarked for the runners up; instead that money will be given to Serrekunda East Sports Development Committee to repair some of the materials destroyed.
In short, the 2012 Super Nawettan Organizing Committee has decided to ban Bakau for two years, after their fans disrupted the 2012 Super Nawettan final game against Brikama at the Serrekunda East Mini Stadium on Saturday.
Bakau were also fined D10, 000 after their fans damaged the stadium perimeter fence, pavilion roofs, plastic chairs and other valuable materials.
Lamin Camara also announced that the trophy and cash amounting to D50, 000 will be presented to Brikama on Saturday 29th December 2012, at the Mini Stadium, noting that the tournament was self-sponsored tournament. He said Serrekunda East and Brikama were the three crowd-pulling zones, and that was the reason they decided to play the quarter finals, semi finals and finals in these zones.
In a related development, Bakau's Sanna Darboe was nominated as the youngest player of the tournament, and Ousman Manneh of Bakau was awarded as the leading goal scorer of the tournament. Brufut was named the most supportive team of the tournament.
Camara also thanked Ebou Ndure and former GFA 2nd vice president Lamin King Colly for supporting his committee with trophies, and for sponsoring the youngest player and leading goal scorer awards.
Read Other Articles In Article (Archive)