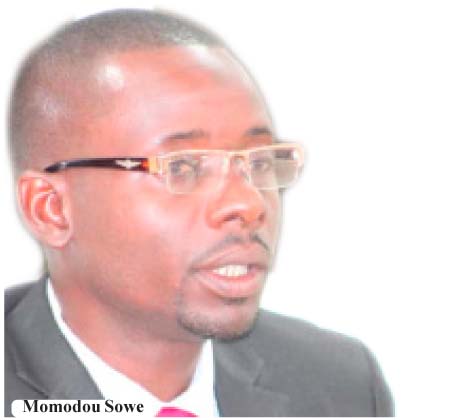 Momodou Sowe, a protocol officer at State House, yesterday told the Truth, Reconciliation and Reparations Commission (TRRC) that former head of state, Yahya Jammeh was an erratic person and would do some things his own way and he easily forgets.

He appeared in connection to his detention at the NIA, the search conducted in his house by the NIA, his interrogation and the time he spent at Mile 2. He also explained how he suffered at Mile 2 and how his detention affected his family.
He said he worked with Jammeh in 2003 as a records clerk and then moved to the Protocol Office.
He testified that when he started as protocol officer, he worked with Ebrima Camara, Abdoulie Sallah and Dr. Njogu Lamin Bah.
He adduced that he was allocated with a vehicle through Samba Bah, a vehicle controller. He recalled that thieves broke into his car breaking the windscreen in the process.
Two days later, he said, after installing an anti-alarm system, the former State Guard commander called him and told him that he got instructions from the top for him to return the vehicle. According to him, he told him that he had no authority to tell him to return a vehicle.
However, he said it was only Yahya Jammeh that had the authority to tell Lamin Sanneh to inform him to return the vehicle.
He said he contacted chief of protocol, Moses Benjamin Jallow and asked whether he (Jallow) was aware of anything surrounding the issue. However, Jallow advised him to hand over the vehicle.
From there, he said, one day, he went to Jallow to brief him on the usual assignments but found him on the phone. Before leaving Jallow's office, one Edu Gomez, NIA operative entered the office.
"However, Edu whispered to him and said one of their directors wanted to talk to him and he then escorted him out and took him to the intelligence quarter at State House."
He said thereafter, they went to the director of Operations, Louis Gomez, who instructed Edu to take him to "invest" and in that office they met Mr. Sukuta Jammeh who also welcomed him.
"In the same office, we found Mustapha Jobe and Lamin Ceesay who were introduced to me. Mustapha gave me a paper and wrote a statement and gave me another piece of paper and told me to write the passwords of my cell phone and laptop respectively to enable him access them."
He said during the course of the detention, Mustapha took him to a room in the guard room where he sat down but did not have access to his family or a lawyer and was made to spend the night in that room.
He recalled that operatives of the NIA including Mustapha Jobe escorted him to his home where they found his four-month pregnant wife cooking lunch.
"I told my wife not to be worried as that was the system of the Office of the President." The witness further recollected that the NIA officials ransacked his house.
"I was afraid to tell my wife about that. Prior to our arrival back to the NIA, we passed by KMC where they received information that I was passing news to online newspapers, the Freedom Newspaper in particular." However, according to him, Mustapha said there was no evidence regarding the allegation.
The witness said he could not be granted bail the following day as promised by Louis Gomez because it was a public holiday but was subsequently released on a Tuesday.
He confirmed that he was held at the NIA for 7 days.
Mr. Sowe told the Commission that he was subsequently granted bail and was reporting to the NIA and usually spent ten minutes and went back. One particular Monday, he narrated that Louis Gomez called him and he realised that it was not normal.
He recalled that on 3 December, 2012, he was rearrested and taken to Mile 2. He said one officer Suso confided in him that they were given instructions to hand him to Mile 2 till further notice.
"Upon arrival, I was taken to Commissioner Faal's office. However, Faal insisted to know who instructed them to take me there because there was no warrant showing that I was convicted or supposed to be detained at Mile 2."
At this point, the NIA officers told Faal that it was an executive order. He said he was taken to the maximum security wing.
Mr. Sowe said the cell was broken and even had ants inside; adding that the inmates were made to believe that he was going to serve as an insider for people who were supposed to be the next death row inmates. He said this was the main problem that worried him while in Mile 2.
He said while at Mile 2, he initially did not have access to his family or a lawyer until later.
Mr. Sowe revealed that the cells were dirty and smelly which further worsened his eye sight because he was operated on cataract.
"I told the prison warders that I needed to be taken to the doctors time to time. However, I was told that it was only those who took him there could give them that instruction."
He said eventually his wife knew that he had been detained at Mile 2 and it took one and a half years before his mother knew it.
Letters from the wife and mother of the witness were tendered and admitted in evidence.
Read Other Articles In Article (Archive)