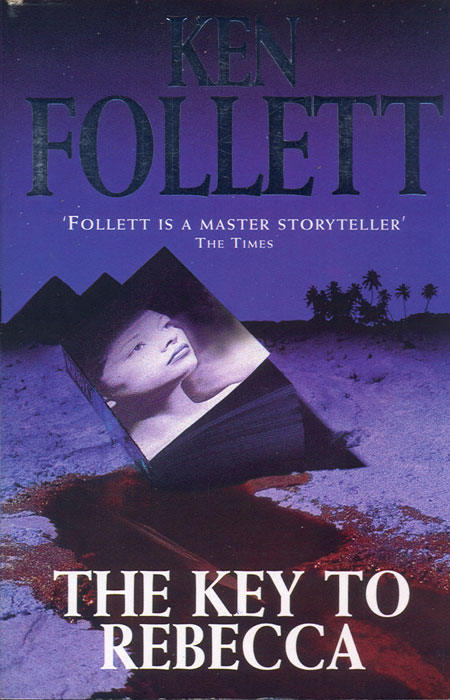 Author: Ken Follett Publisher and Date of Publication: Pan Books; 1998 (First published 1980 in Great Britain by Hamish Hamilton). Paperback; 480 pages
Set in the Second World War, The Key to Rebecca tells the story of a German spy Alex Wolff who was determined to win the war for the Axis Forces against all odds. Posing as a European businessman, he arrived suddenly in Cairo ftom the desert after many years of self-imposed exile. For his new mission, he came armed with a radio set, a lethal blade and a copy of Daphne du Maurier's Rebecca, which contains the code for transmitting secrets to the Axis Forces.
Ruthless and charming Alex W olff set about his mission with all his heart, hell bent on eliminating any obstacle in his way. It wasn't easy for him at first to penetrate the British military headquarters in Cairo. To do so, he had to hire the services of a notorious and unscrupulous gangster Abdullah who orchestrated a street fight in order to rob any of the top British military officers of his briefcase. In the ensuing pandemonium, Abdullah's boys succeeded in stealing a briefcase.
But unfortunately for them, the briefcase didn't contain the information Alex Wolff wanted. For a while, this setback threatened to throw his entire mission awry. But he struck gold when he ran into his old flame Sandy who by now had become a celebrity in Cairo. With her cooperation, he was able to snare the weak-willed Major Smith, the liaison man between the Secret Intelligence Service, also known as the M16, and the GHQ.
Beguiled by Sandy's charms, Major Smith threw caution to the wind and always went into Sandy's boathouse for their sexual encounters with his briefcase containing secrets of the Allied Forces.
During each encounter, Alex Wolff would hide in a wardrobe. As soon as Major Smith was carried away by his sexual excitement, he would open his briefcase and take out the relevant information that he needed to pass on to his boss Rommel. With that, the Axis Forces, for some time, foiled the strategic plans of the Allied Forces. It was then Vandam, an intelligence officer with the British GHQ, came into the scene. Having failed once, he promised himself to get his hands on the spy who was at large in Cairo, causing all sorts of trouble for his side. And whose actions threatened to ruin his career. Like his antagonist Alex Wolff, he was supported by a beautiful courtesan Elene. Together, they both set out to catch the elusive spy.
On two occasions, he slipped through their grasp. As the cat-and-mouse game built up, the wily Alex Wolff abducted Billy, Vandam's son. When Vandam got to know about this, he broke away ftom the GHQ and decided to go it all alone. It was then the chase began. Through a mixture of drive, anger, intelligence and the fear of failure propelled Vandam to get the better of his adversary. Eventually, he killed Alex Wolff. And as a result, he thwarted the advances of the Axis Forces. This is a remarkable story told with the passion, fluency and heightened tension that can only be expected ftom a master storyteller like Ken Follett.
It is available at Timbooktoo Bookshop.4494345
Read Other Articles In Article (Archive)