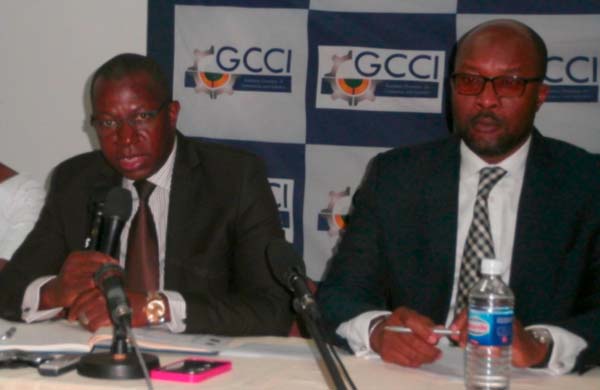 The Gambia Chamber of Commerce, Industry, Agriculture and Employers' Association (GCCI) has announced that the 2017 Trade Fair Gambia International (TFGI) will be held between 15 and 30 April 2017 at the Independence Stadium in Bakau.

Key objectives of Trade Fair Gambia International include presenting an opportune platform for businesses and industry innovators to showcase and possibly collaborate; to champion the creation of private sector jobs; promote the exportation of 'Made in The Gambia' products; highlight investment opportunities in The Gambia and to network local enterprises with business opportunities at the international level thereby increasing inter-regional trade.
Speaking at the official launching of the 11th Edition of TFGI, held at the GCCI's Kerr Jula Secretariat in Bijilo, GCCI President Muhammed Jagana said The Gambia had witnessed a challenging economic situation over the years, but such an experience could now be water under the bridge, as all are hopeful of seeing significant growth in the coming years.
The theme for this Edition of TFGI is dubbed: "Connecting Businesses, Creating Opportunities", which signifies GCCI's determination and focus on pulling together businesses and entrepreneurs micro, small and medium, as well as giant corporations far and wide to connect, relate and even merge to create more opportunities for commerce, investment and job creation in the new Gambia.
According to Mr Jagana, GCCI, in collaboration with the new Government will work towards building a new Gambia by continuing to develop and support the private sector as a whole.
The private sector being the engine of economic growth in any country, has been striving hard to do its utmost best in The Gambia's stifled business terrain and investment climate.
But under the new administration, an ethical and blissful wind of business regulation is expected to bolster the performance of the private sector and move the economy of the country for the better.
"As this year is unprecedented, we believe we should focus on our expectations from the new Government as we reposition GCCI as the 'Voice of Gambian business'," Mr Jagana said.
"As we usher in the new Gambia, GCCI will be commemorating its golden jubilee as the 'Voice of Gambian business' and prides itself in 'connecting businesses and creating opportunities' over the years," Mr Jagana further said, adding that this success has been attributed to partnerships GCCI has built and continue to build primarily with Government and various businesses and organisations locally and abroad over the past 50 years.
Against this backdrop, he said, GCCI expects to play its role in a more dynamic and efficient way in changing economic environment, through creating and seeking strategic partnerships for the benefit of the business community.
According to Mr Jagana, high on the Chamber's agenda for 2017 is rebuilding the Gambian economy and therefore encourage business owners and organisations to be open to more opportunities to create or join in partnerships with GCCI as they continue to work together to build a stronger economy through inclusive growth.
Competitive and environmentally sustained industries and enterprises have a crucial role to play in accelerating economic growth, creating employment and reducing poverty in the Gambia, he stated.
GCCI seeks to encourage job creators rather than job seekers, he highlighted, saying the byproduct of such an initiative is product and service development for the realization of "Made in The Gambia" products and services.
"It is quite clear that consumption and investment are the main drivers of the African economy," the GCCI president noted. "Therefore, as Gambians we need to create and consume more of our own products and services and also venture into a larger trade platform."
He said: "In this age of globalization, gaining access to export markets for all industries and enterprises is very important, particularly for small and medium-sized enterprises (SMEs) that constitute over 90% (Private Sector Development Strategy) of the Gambian Business Community."
He said The Gambia's biggest strength and potential lies in the services sector, adding that like many parts of the world, including particularly small countries, like Singapore, Dubai, etc this sector has been pivotal in transforming their economic growth and development.
"We must actively review and strategize how businesses to expand and transform our economy, based on the best service delivery," he said.
Bajara Jabbie, GCCI Board Director and Chairman of Trade Fair Committee, in his remarks, said Trade Fair Gambia International presents an opportunity for businesses and industry innovators to showcase their products and services and gain access to both domestic and international markets.
He said that with majority of export coming from the agribusiness sector, the whole value chain must be exposed and understood.
This year, Mr Jabbie said, as the nation transitions to the new Gambia, they are also inviting the public sector to participate in the business development drive as well as enlighten the public about their roles.
In closing remarks, GCCI Chief Executive Officer Alieu Secka urged all and sundry, especially businesses to support and collaborate with GCCI in their effort to promote businesses in The Gambia and boost the country's economy.
He commended all those businesses and private and public sector players who are supportive of the chamber and its activities through thick and thin.
The press briefing, moderated by GCCI's Director of Corporate Services Beatrice Mboge, drew together journalists from both the print and electronic media in the country.
She applauded media personnel and their role in society, especially in promoting GCCI's affairs. She also said their doors are open to the media for information and clarification on business matters in the private sector and GCCI business activities.
Read Other Articles In Article (Archive)