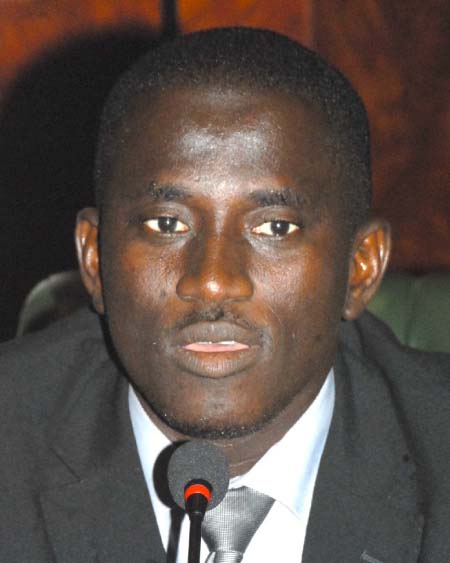 The former Secretary General and head of the civil service, Momodou Sabally, was on Monday brought before Justice Makailu Abdulah, at the high court in Banjul.
Sabally pleaded "not guilty" to a three-court charge of economic crime and abuse of office preferred by the office of the Director of Public Prosecutions, DPP.
After plea-taking by Sabally, the DPP applied for a court order to leave the accused person in the custody of the National Intelligence Agency (NIA) in Banjul.
The DPP told the court that investigations on the activities of the accused are not completed.
It would be recalled that Sabally was also minister of Presidential Affairs and secretary-general of the ruling APRC.
Sabally appeared in court without a lawyer, and he applied to be granted bail.
He told the court that he is a Gambian, and has been in detention for five weeks during which he "cooperated with the investigators".
He went on to talk about how he has served the country, including as secretary-general at the Office of the President and head of the civil service, and working 10 years with the central bank of The Gambia.
He said he has ignored offers to work for international organizations such as the World Bank and IMF.
"I have a wife and children," Sabally further told the court, adding that "with this background", the prosecution could not question his integrity.
He disagreed with the prosecution's application to keep him in custody, and appealed to the court to grant him bail.
However, the court ruled that one of the considerations for granting or refusing bail is non-completion of investigations, and or the likelihood of interference with investigations.
He pointed out that both parties agreed that the investigation is yet to be completed.
For that reason, the judge added, he does not think the court should at this stage grant bail.
The judge ordered that the accused person be remanded in the custody of the NIA.
The case was adjourned to 14 October 2014, for hearing.
The charge in count one is that the accused person in the month of May 2014 in Banjul, committed an offence while serving as secretary general, when he caused economic loss to Social Security and Housing Finance Corporation (SSHFC) to the tune of D402, 500, by unduly influencing the corporation to fund a programme entitled: 'Youth Career Development' programme, which was organised by one Mariama Sillah without recourse to due process, and thereby committed an offence.
Counts two and three stated that the accused person in the month of May 2014 in Banjul, committed an offence when he abused his office as the secretary general, by influencing the SSHFC to sponsor a programme organised by Mariama Sillah.
It was further alleged that in "flagrant abuse of his office", Sabally "blatantly disregarded due process" when he influenced the SSHFC to sponsor the programme.
Read Other Articles In Article (Archive)