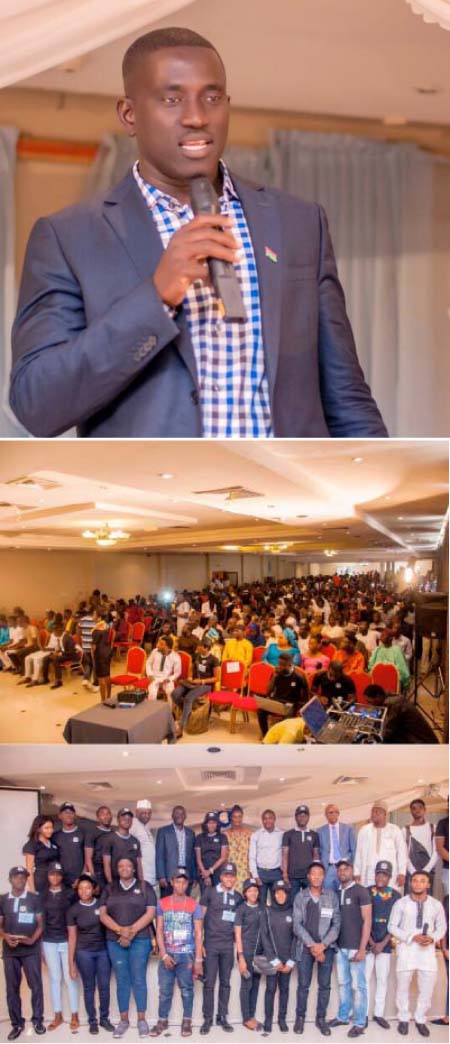 In a classic speech laced with references to African intellectual heritage, Holy Scripture and personal anecdotes, former Presidential Affairs Minister Momodou Sabally has inspired African youth leaders to find their purpose in life and embrace faith and the culture of "never-say-die" to uplift themselves, their communities and nations.

Sabally was speaking as Chief Guest at the official launching of the African Youth Action Network's "Create Your Own Story Campaign" at the University of Ilorin, Kwara State, in Nigeria on 6th May 2017.
"You see, everyday is a good day; and everyday is but a page for YOU to write YOUR OWN STORY. Will your story be good or not? The answer to this question has several determinants; but the one foolproof answer I shall tell you is: it all depends on your mindset..." Sabally told his audience of African University students and professors to rapturous applause.
Quoting African literary giant Chinua Achebe, Sabally said, "… It is only the story that can continue beyond the war and the warrior. It is the story that outlives the sound of war-drums and the exploits of brave fighters. It is the story […] that saves our progeny from blundering like blind beggars into the spikes of the cactus fence."
He then took the audience through his life story, growing up in The Gambian from a poor family and taking the path of education for empowerment. He narrated his experience of being the Valedictorian of the first ever batch of graduates to attain university education on home soil and then explained his trajectory as a career economist who worked at both The Gambia's Central Bank and Ministry of Finance at managerial levels.
Sabally then concluded with a rendition of his rise to the pinnacle of The Gambia's Civil Service as Minister of Presidential Affairs, Secretary General, and Minister responsible for the Civil Service. He also told the excited crowd, that interrupted his speech with resounding applause, about his fall from grace and going to jail three times while stoically standing his ground to defend his innocence and at the same time writing for local and international publications to inspire tens of thousands of young people at home and abroad.
He advised the youths to remain persistent and to never give up in spite of the challenges that are sure to show up in their path to self-fulfillment and authentic community service.
Other speakers at the forum were Professor Adamu Sesay and Dr Mahfouz A. Adeyemi, both from the Centre for Peace and Strategic Studies at the University of Ilorin; Professor M.O Ibrahim, Director of the Centre for International Education, University of Ilorin; and Dr Adeniji Abdullahi, President of the Association of Nigerian Authors and member of the Pan African Writers' Association.
Source: Press Release
Read Other Articles In Article (Archive)