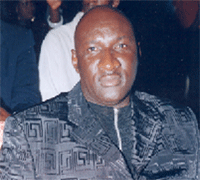 The trial of Musa Suso, former National Assembly Member of Kombo North, opened on Friday 27th February 2009 at the Banjul Magistrates' Court before Magistrate Kayode. Musa Suso is standing trial on four counts of giving false information to a public officer, charges he denies.
Testifying, David Colley, the Director General of Prisons told the court that he knows the accused Musa Suso as inmate and that he could remember the 5th of June 2007.
"On this day, I was in my house at Yundum at around when one Musa Jammeh, of the State Guard came with three officers to my compound and told me they came to collect me under arrest," he narrated. "I complied and I was taken to the NIA for interrogation and later detained at the Central Prison," he told the court. He said he was not informed what happened and later arraigned before a court of law. "I was surprised when the charge against me was read stating that I intending to steal a generator and stealing an amount of D35, 000," he added. He said after the court proceeding, he was sent back to Mile 2 under detention and later gave a statement at the serious crime unit. "I know one Ebrima Jammeh a police officer when he met me at the serious crime unit," he adduced. "I was asked by Ebrima Jammeh whether I was aware about a dead bull that was alleged to have been brought to the prison to feed inmates of which I told him I was not aware of it," he stated. "I was also asked about a satellite dish that was allegedly brought to the prison and I took it to my house which I also denied as I had two satellite dish at my house at that time," he said.
Further testifying, David Colley told the court that he showed proof to the investigation that he bought two satellite dish by producing paid receipts. He said he was also asked about one Ebou Khan whether he knew him and he replied in the negative. He said he was further asked whether the said Ebou Khan supplied fuel to the prison and replied in the negative, adding that he never received any fuel from Ebou Khan on behalf of the accused or by his influence. " I was also asked about the painting of truck from one Mr Sedia Jatta a mechanic and I told them that I could remember taking out two trucks to Mr Sedia for painting," he added.
"After the labour I referred Mr Sedia to the ministry for his payment and he was paid," he revealed. "The said Sidi never paint any prison truck through an influence of the accused," he told the court. "Inmates never died as a result of feeding them with carcass of a dead bull," he added. He said Batch Faye's Mother actually bought a satellite dish for the prison and it was right there at the office of the director at Mile 2. " I never at any time take this satellite dish to my house as I have my own," he concluded.
The case was adjourned to 5th and 6th March 2009.
Read Other Articles In Article (Archive)