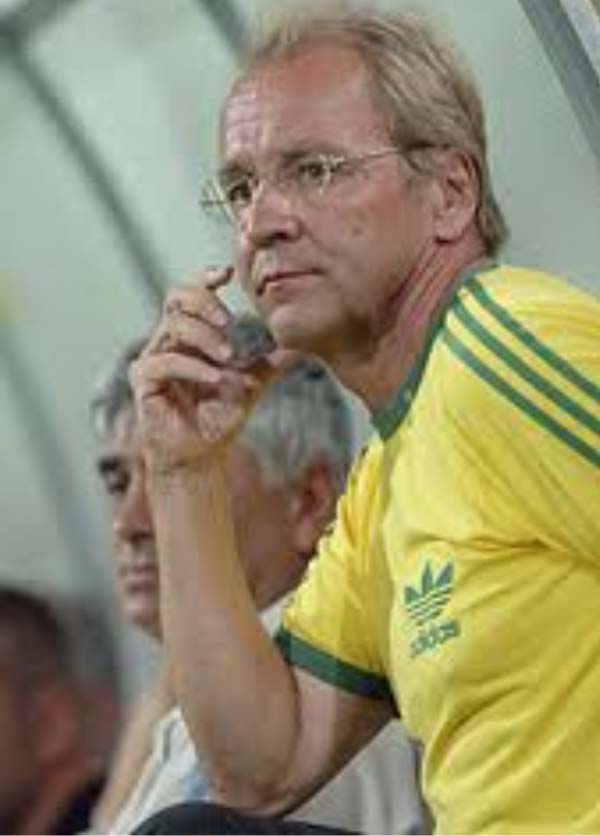 Martti Kuusela a 68 year old Finnish national, born in Rovaniemi with excellent European football coaching track record is currently interested in taking charge of Gambia's senior national team (the Scorpions) as head coach The Point sports understands.
The experience tactician has expressed his interest in becoming the next potential head coach of The Gambia with the aim and objective of bringing back the country's lost glory in international competitions especially at the senior level since the untimely departure of the former Belgium technician Paul Put who is currently coaching Burkina Faso with a step away from qualifying to Brazil 2014 World Cup.
The former Finland midfielder has vast knowledge and experience in coaching after heading several club sides in Europe and his own national team, Finland. His wealth of knowledge and experience will be a valuable addition to any club or country as a Manager/Coach/Technical Director.
The tactician who is currently living in Helsinki, Finland, with three university degrees, is a very popular lecturer on football coaching and has also been lecturing on mental training, psychology and management.
"I have got a German Football License, Deutsche Sporthochschule in Cologne (Köln) 1981, Fussball-Lehrer," he said in an interview.
Below is the full text of the interview:
Please describe your coaching career?
I am the first Finnish coach who has worked as a professional coach abroad. I have worked until now as a coach in six countries: Finland (two times the Finnish Champion and Cup winner), Denmark, Belgium, Hungary (Champion), Greece and Cyprus.
I worked seven years in the Finnish Football Association and as the Finnish National Team Manager for six years. I am grateful that I had possibility to work with so many good footballers in so many good football countries. It has been very difficult to get from Finland to Europe and the world. Finland is a small football country.
I have received a lot of offers to coach in many countries during the years. When I was between jobs I was travelling a lot to meet my various football contacts all over the world. One is never complete as a coach and definitely never too old to learn new tricks!
I am a hard worker as a coach, Games change, games develop and there are moments where you have to make changes that will hopefully help you win.
What prompted you to have the interest of coaching The Gambia knowing the current situation of the team?
I have a good Gambian friend who asked years ago if I would be interested in coaching in the country. I said yes I am. Then I received a letter from Gambia FF, where they asked me to come to Banjul. They wanted to interview me. I did not have the opportunity to go at that time because I was in the training camp in Turkey. I coached there for players from 13 different countries among them Gambia's owned Ebrima Sohna, He is a good player and he had a very good attitude to work during the training camp.
I then followed the Gambian football and you have very interesting players in several European countries and the United States. The Gambia has also achieved good results in youth matches. I also saw the second half of the Morocco-Gambia game.
If you are giving the opportunity to coach the Scorpions, will you promise that The Gambia will qualify for the 2015 tournament?
An experienced professional coach cannot give a promise, not even Jupp Heynckes or Pep Guardiola. Every professional coach will do everything in order to achieve the goal. His job is to choose the best crew that work together to achieve the goal. A coach never wins a match with what he knows, but with what the players have learnt.
As a professional coach, how would like to work with the authorities running the affairs of football in the country?
Nelson Mandela has said: You elected me your leader. Let me lead you now. Who is with me on this? Who is with me? The authorities should be aware that the professional coach has his own style to manage. All these details should be resolved before the cooperation starts.
With your vast European experience, how would you describe the talents of Gambian players playing careers in Europe and other parts of the globe?
Gambia has talented players who play well in clubs, but even more they should get to Europe and always to the most successful clubs. It would be of great advantage for Gambia. You now have players in Italy, Portugal, Spain, England, France, in the great football countries. Gambia should play more and more so-called friend-lies so that the players get used to play with other players and the coach.
Finally, do you have any thing in mind concerning football or your career you would like to share with our readers?
I am an experienced and highly motivated coach. I am training almost on daily basis, because also the coach must be in good shape to withstand the enormous pressure.My coaching philosophy is: 'What you need is players, what you get is people', teams are statistics. Players are statistics. Team members are people. Success in football management depends on selection, decision making, ability to handle players and luck.
Read Other Articles In Article (Archive)