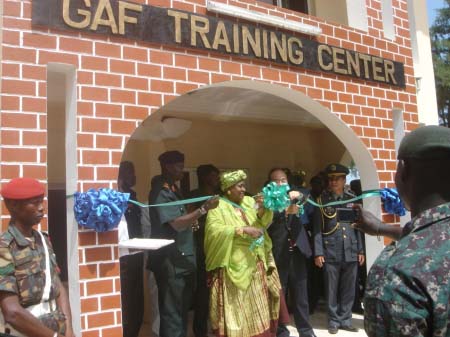 The Vice President and Minister of Women's Affairs, Aja Dr Isatou Njie Saidy, on Wednesday presided over the inauguration and formal handing over of the newly refurbished Gambia Armed Forces (GAF) Training Centre in Fajara.
The centre is located opposite the Fajara Barracks and was first built in 1921 during the colonial era.
It has been given a new facelift thanks to the $113,787.00 funding package from the government of the republic of China (Taiwan) earlier this year.
In his welcome address, Col. Paul Auther Gomez, Chief Engineering officer of GAF, said it was a delight for him to see the successful completion of the project.
According to him, the centre is equipped with a kitchen, toilet facilities, bar and restaurant, conference hall, reception room and two offices.
He said the rationale behind the project was to boost the morale and capacity of the GAF personnel.
He paid special tribute to Ambassador Chen of Taiwan for his official and personal support to the project and for providing additional facilities to the project.
In her inaugural address, Vice President Njie-Saidy who also doubles as chairperson of national security council, said the primary function of GAF is to preserve and defend the sovereignty and territorial integrity of The Gambia among others.
She said the government of Taiwan has contributed immensely to the transformation process of the GAF namely, in capacity building, provision of high speed boats, funding of fuel dumps among others.
She used the opportunity again to extend heartfelt appreciation and gratitude to President Ma Ying-jeou, of Taiwan through Ambassador Chen for the numerous support and assistance being rendered to The Gambia by his government.
According to her, the centre will be very useful for not only GAF in its indoor trainings but could also be used by other sister security services.
Speaking earlier, Ambassador Samuel Chen of Taiwan said it was gratifying moment for him to hand over the centre to the Gambia Government through the vice president.
Training is very vital for the army, he said, adding that such a centre would help in meeting their training needs.
Ambassador Chen commended President Jammeh for his support for the project and also hailed the VP for presiding over the ceremony.
He commended the GAF Engineering Corps for their creative and beautiful design and also hard work in completing the work in five months.
"I also have the pleasure to donate my personal handmade statute of a vigorous Gambian soldier to stand in front of the training centre as a symbol of encouragement to the GAF to be more steadfast in their peacekeeping efforts," he remarked.
The ceremony was attended by CDS Ousman Badgie, DG of Gambia Immigration Department Mr Buba Sagnia and other senior government officials.
Read Other Articles In Article (Archive)