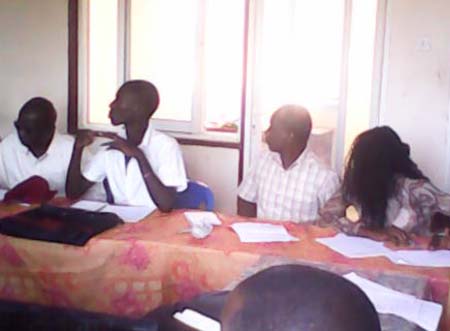 West African Community Development Training Centre on Tuesday concluded a two-day capacity building training on data collection and questionnaires administering for enumerators, a workshop held at WARDTC centre in FajiKunda Kaw Junction.
The convergence brought together stakeholders drawn from civil and public servant across the country funded by GEF-SGP the UNDP.
Speaking at the ceremony, Salimina Jobe, one of the project training facilitators, said the training targets enumerators who are going into the field to collect data through administering questionnaires.
This, he said, is part of the training needs assessment for capacity building on environmental project management grant provided by GEF-SGP to WARDTC.
According to him, this field survey will cover seven local government administrative areas including Kanifing Municipality for the data collection exercise.
The aim is to develop an appropriate environmental planning training manual for CBOs and NGOs; also to improve the capacity of the training workshop participants to enable them producequality proposals for GEF-SGP funding and implement the projects successfully among others.
He added that the principal objective of the training was for the enumerators to be familiarized themselves with the questionnaires which is in twofold: one is used for qualitative data collection and the second is used for qualitative data collection to enable them to administer questionnaires for CBOs and NGOs.
"The idea is to know the capacity, weakness and status of their capacities in order for the training to respond to their needs," he added.
He said that as an institution with several years of experience in building the capacities of local CSOs in various aspects of participatory planning and management of particularly in grassroots development intervention, the West Africa Community Development -Training Centre (WACD-TC) is equipped to provide the training required for the implementation of the GEF-SGP initiative in The Gambia.
For his part, Saiba K. Suso, WARDTC coordinator stated that one of the contributing factors that militate against the effective and efficient achievement of project management is the low capacity, especially in community level organisations actively involved in environmental and natural resources restoration.
Thus the need to train enumerators to collect data to be able to assess CBOs and NGOs hence, potentials of grassroots organisations in improving not only their capacity in planning and managing of GEF-SGP but also in providing environmental project for effective implementation ofprojects for better service delivery.
Alpha O. Jallow, WARDTC chairperson, spoke at length on the importance of the training which he described as timely and useful for any sustainable development of CBO and NGOs.
According to him, WARDTC is an institution that provides capacity enhancement for CBOs and NGOs and during the training, participants were taken through several topics including, developing materials and manuals for CBOs/NGOs and writing marketable project proposal and management skills for effective implementation and management of projects.
He said it also involves undertaking knowledge and capacity needs assessment of the participating local CSOs to provide baseline data on the level of knowledge and gaps on participatory environmental planning capabilities and needs.
Ousman Sonko, assistant community development officer at Kanifing Municipal, said as person responsible to facilitate registration of community-based organizations, they have realised that there are capacity gaps on daily basis.
The training, he said, should have come earlier so they would be able to address capacity gaps of CBOs and NGOs.
"Enhancement of the capacity of local CSOs, community leaders and members in The Gambia's municipalities and administrative regions of The Gambia in environmental project proposal writing on the GEF-SGP environmental focus areas will enable participants to not only prepare proposals and implement projects successfully but to also ensure sustainability, effectiveness and efficiency of the beneficiary communities," he emphasised. 
Read Other Articles In Article (Archive)