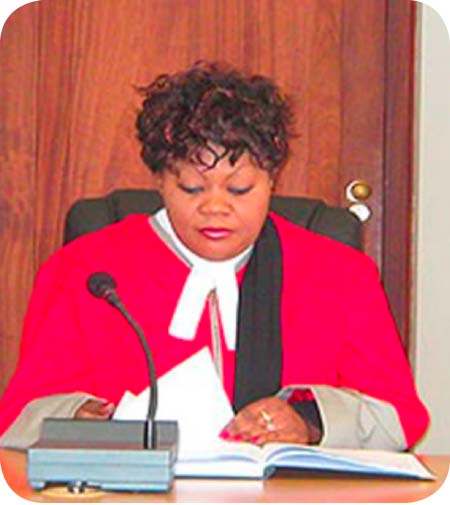 The Ghanaian government has disclosed that Justice Mabel Agyemang, former Chief Justice of The Gambia, is in Ghana, "while efforts are being made to resolve her issue with the Gambian President, Yahya Jammeh".
This information was obtained from Ghanaian news sources online, which also stated that the government in Accra "denied reports that former Chief Justice Agyemang is hiding in an embassy in The Gambia".
"She is not anywhere in The Gambia," said a deputy minister for Information and Media Relations, Murtala Mohammed.
"She is indeed in Ghana, and they have had meetings with her," Mohammed announced.
Ghana's deputy Information Minister also reportedly said, "finding a solution is something that can be done between the President of Ghana and the President of The Gambia".
The government of Ghana "is well aware that there is the need for something to be done" about the situation, he added.
It would be recalled that President Jammeh recently stated that former Chief Justice Mabel Agyemang, a Ghanaian national, "is nowhere to be seen".
He was speaking at a State House ceremony on March 6 for the swearing-in of Justice Ali Nawaz Chowhan as the new Chief Justice of The Gambia.
Jammeh on that occasion said, "despite the fact that she (Justice Mabel Agyemang) was being appointed by us, interestingly enough, she was taking orders from elsewhere…a country; from an embassy whose country is hostile to our country; despite the fact that we are the one paying her salary.
"And that is why she had not handed over to Justice Fagbenle; because she disappeared. Nobody has seen her up to today".
President Jammeh added that her life was not endangered. "We are not even taking her to court; we relieved her of her appointment…
"The moment she was told that she has been fired, that's the time she disappeared. She went to some church, and that's the end of it.
"But we know that she's being hidden by a particular embassy. We are not in a haste. Whatever happens, we will see the person; where she is, and we will deal with the embassy concerned; because this is unacceptable", Jammeh declared.
Read Other Articles In Article (Archive)