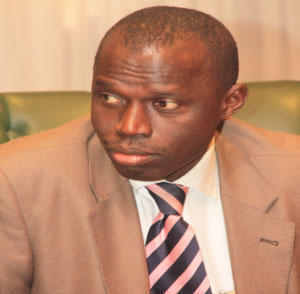 Indigenous businesses and entrepreneurs in The Gambia have been told to form partnerships and mergers that would help them attract more support, sustain their growth and stay put to meet the investment and productive needs of the country.
"A proactive and vibrant domestic private sector is needed to spur growth and development in The Gambia as well as aid increased foreign direct investment," said Hon. Abdou Kolley, Minister for Trade, Industry, Employment and Regional Integration, while speaking at a Business Forum held yesterday at the Kairaba Beach Hotel by the Gambia Chamber of Commerce and Industry (GCCI) on the theme: Domestic Investment as a Catalysts for Foreign Direct Investment.
Minister Kolley however highlighted some salient factors inhibiting the growth of domestic businesses and stalling investment in the country. These, he noted, include government domestic borrowing as a result of meeting state and public needs, fear or slackness by entrepreneurs and businesses to go into partnerships or form mergers, and access to finance from financial institutions to grow and expand businesses.
"Containing government spending and reducing borrowing from the domestic market can certainly reduce pressures from domestic borrowing interest rates," he said, adding that this will subsequently lead to more borrowing funds for the domestic private sector.
"But as a government we are faced with huge and increasing demand for government services across the country, and to meet those demands requires lots of money," he added.
Minister Kolley continued: "I am not against sole proprietorship but what I am saying is, consider coming together and form partnerships and corporations; that way you will increase your negotiable power when you deal with financial institutions in terms accessing credit to grow your business.
"We also need to fall on financial institutions….we call upon them to be innovative in their approach and dealings with private enterprises, and also consider options of long-term financing to address the needs of business, in particular small operators.
"If we have these three elements, including many others …that for me is ingredient to spur domestic investment in any country, which will ultimately lead to increased foreign direct investment."
The Minister also highlighted stock exchange as a creator of capital and investment and driver of economic growth in a country.
He advised members of the private sector to consider having a stock exchange market, which can spur business and attract shareholders to invest in businesses and form partnerships.
Hon. Kolley also advised small businesses and entrepreneurs to graduate from depending on government's support and protection from outside competitors.
He said: "Over the years government has provided incentives to a number of businesses, but for me incentives are not meant to be permanent.  If you give incentives to the private sector, my expectation is that you use the incentives to grow your business, expand your operations and graduate from the incentive scheme. That way government will be able to provide the same support to other companies to also grow and expand and in the process bring wealth and employment in this country.
"But if they continue to come and ask for more, they would not grow and others would not benefit from that support so that everybody benefits at the end.  We expect that when government extends support to a company we expect that support to lead to tangible results and the benefit to trickle down to the general population, whom we are here to serve."
The Minister said he is glad there are some few success stories among young Gambian entrepreneurs and businesses that can serve as role models to others, especially the younger ones who want to venture into business.
In his speech on the occasion, Arab Gambian Islamic Bank Managing Director and Chief Executive Officer Salisu Sirajo gave practical examples of how the culture of domestic investment can be nurtured.
The forum, attended by senior officials of the private sector, the IMF and government, was moderated by Abdoulie Touray, President of Sahel Investment Group, and Papa Yusupha Njie, CEO of RLG and a board member of the GCCI.
Read Other Articles In Article (Archive)