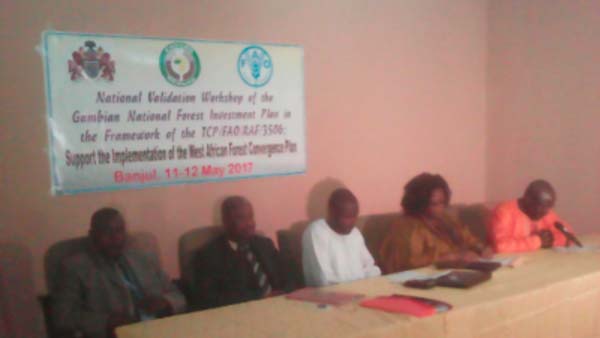 The Forest Investment Plan for ECOWAS member states designed to support the implementation of the West African Forest Convergence Plan has been validated in The Gambia.

The plan was validated at a two-day workshop, 11-12 May 2017, organised by ECOWAS Commission and FAO, and hosted by the Ministry of Environment, Climate Change and Natural Resource of The Gambia at a hotel in Kololi.
Speaking on the occasion, Madam Kalala, FAO representative to Gambia, said the validated plan would strengthen national capacities for implementation of the components of the West African Forest Convergence Plan for the sustainable management and use of the forest ecosystems in West Africa.
She said the Forest Investment Plan aims to provide guidance to policy and decision makers, donors and other stakeholders in order to mobilise adequate financial resources for the sustainable management of forest and wildlife resources.
Dr Johnson Boanuh, ECOWAS Director of Environment, said the government is designed to be used as a tool for advocacy and resource mobilisation in sustainable forest management at the country level.
He pointed out that it was at the Abidjan Conference in September 2013 that the ministers of ECOWAS member states in charge of forestry and wildlife adopted the West African Forest Convergence Plan for management and sustainable use of forest ecosystems in West Africa.
The ministers instructed the ECOWAS Commission to facilitate and mobilise adequate resources for its implementation.
The convergence plan was adopted in view of the fact that West Africa faces severe challenges of degradation, deforestation and loss of critical habitats due to unsustainable farming practices, bush burning, illegal logging and trade on wildlife products which is affecting the ecosystem.
The permanent secretary for Forestry and Fisheries, Lamin Jawara, said the forest has a great relevance to humanity and its contribution is not only related to the conservation of biodiversity but is of global economic and environmental importance.
Read Other Articles In Article (Archive)