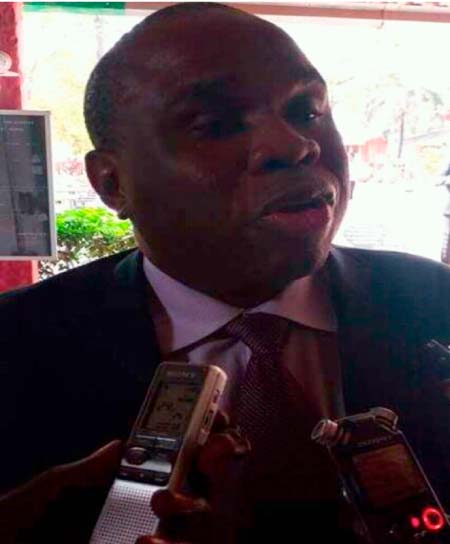 The President of the African Export-Import Bank (Afreximbank), Dr. Benedict Oramah, has said that the Afreximbank is ready to invest more than $500m in projects in The Gambia.

Dr. Benedict Oramah, who was in The Gambia on a one-day -working visit met with President Adama Barrow at his office. The discussion centered mostly on the successful transition and other areas of development.
Speaking to journalists shortly after wards at his hotel at Senegambia Beach, the president of the Export-Import Bank said that they are looking at ways of making an investment of up to $500m. He added the investment will focus mostly in the area of tourism, transport logistics that will link port expansions and to making the River Gambia navigable in carrying goods all the way to Senegal and the sub-region.
"We are looking at agriculture, especially export agriculture and agro-processing, with an emphasis on live manufacture so that as we promote exports we can also promote employment because there are aspects of ports that require the financial sector to make sure that the banks have access to trade services. As you are aware many international banks are withdrawing from supporting a number of African countries because of a rise in compliance costs," he said.
He added that they will be sending a technical team as soon as possible because they, and President Barrow, are in a hurry to start work in the annex.
Speaking to journalists, the chairman of The Gambia Tourism Board, Bakary K. Jammeh, also said that they are very happy because they would like to bring tourists from as far as the United States and other countries as well.
Mr. Jammeh further highlighted the major challenges for GT-Board, stating that funding is needed in that area because The Gambia's tourism is attracting thousands of tourists.
He added that if the Export-Import Bank bring that investment there will be mutual benefit and relationships that could improve the quality of the Board by bringing more visitors.
Read Other Articles In Article (Archive)