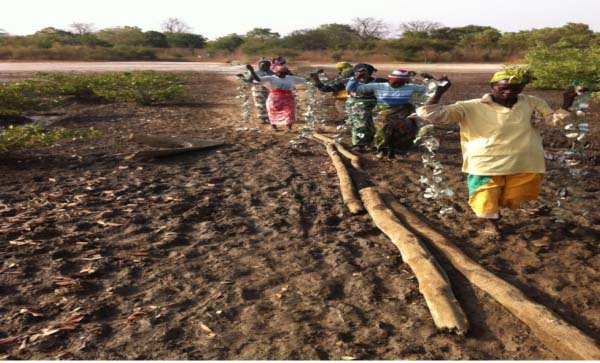 At least 100 women oyster farmers from the communities of Tintinba, Foni Dumbuto, Berefet, Kasange and Bintang, all districts in Foni recently completed a six-day capacity building training course on oyster culture and management.
The Department of Parks and Wildlife Management organized the programme with support from the Sustainable Land Management (SLMP) project.
According to the organizers, the DPWM established a marine community conservation area, to improve the livelihood of the villagers around the community-protected areas.
Speaking at various meetings held in the communities mentioned, Abdoulie Sawo, field coordinator of the programme, said the principal objective of the training activity was to provide alternative livelihood to the local people, with a view to ensuring sustainable biodiversity conservation.
He added that during the training session, three oyster demonstration farms were created in Tintiba, Berefet and Bintang, which is expected to minimize the cutting of mangroves, which serve as a refuge for many aquatic species such as fish, among others.
According to Sawo, in the face of climate change and human population increase, the pressure on natural resources is inevitable.
This has made it urgent to use modern technology and techniques to boost food production, and ensure food security at the household level, he said.
Mr Sawo added that the establishment of community conservation areas is paramount in ensuring proper management and use of The Gambia's biological diversity.
"This is a major obligation under the Convention on Biological Diversity, Programme of Work on Protected Areas and other important protocols, conventions and agreements to which The Gambia is a party," he said.
Lamin Saine, lead training facilitator, said the method used was the theoretical explanation and practical demonstrations, and he explained the importance and urgent need to venture into oyster culture, and the best practices learned from countries such as Senegal's delta du Saloum region.
Key areas of focus included shell identification because only female shells are required for reproduction purposes, and the punching and tying of oyster female shells was demonstrated, as well as brushing techniques to attract oysters.
He disclosed that at least ten oyster racks were later built in the communities of Tintiba, Berefet and Bintang respectively.
The health and safety of the oyster farmers is very important and, as result, participants were provided with adequate knowledge on proper use of protective gears such as goggles, gloves, plastic shoes, hat and jean trousers, Saine said.
They were also advised to take note of the parasite that sprays a poisonous substance into the eyes while cleaning, he added.
Read Other Articles In Article (Archive)