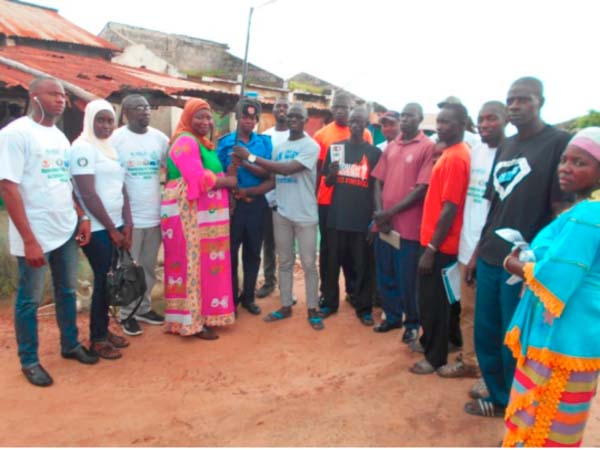 Officials of the Department of Fisheries over the weekend embarked on a distribution of flags to fishermen at various fishing landing sites.

They also met with officers of fire and rescue services posted at fishing landing sites within the Greater Banjul Area.
The fisheries officials also visited various landing sites in Bakau, Taniji, Kartong, Brufut, Jeshwang and Banjul to hand over the flags to the fire and rescue service for protection at sea.
Speaking at Tanji landing site, Amadou Jallow, focal person for Monitoring Environment and Security in Africa (MESA), said the flags were meant to use as earth observation information to provide support for safety at sea.
According to him, the main objective of the service was to monitor and forecast ocean conditions to help improve safety of fishermen and other mariners at sea.
He said the fire and rescue service produces charts of sea surface currents, sea surface height, sea surface temperature and salinity sea surface winds and significant wave heights to provide early warning on ocean conditions.
Mr Jallow said further that these products are mainly targeted at local fishermen, especially artisanal and semi-industrial who do not use sophisticated equipment and therefore the most vulnerable at sea.
He said the rescue service description provides users from the artisanal fisheries sector with early warning SMS and maps of ocean conditions for near-real-time and forecasts to help in planning fishing expeditions.
He said the flags will be given to the fire service which will be responsible for placing them upon receiving a message from the department of fisheries.
"We will be updating them with daily messages which will state the status of tomorrow forecast," he said, adding that the purpose of the flags is to advise the fishermen when to go to the sea and when not to go.
He said that during their interaction with the fire and rescue service, they learnt that there was need for more sensitization and awareness creation because most of the fishermen do not believe in what they are telling them.
Mr Jallow thanked the fire and rescue service for their cooperation in ensuring that the initiative is implemented for the safety of people at sea.
Read Other Articles In Article (Archive)