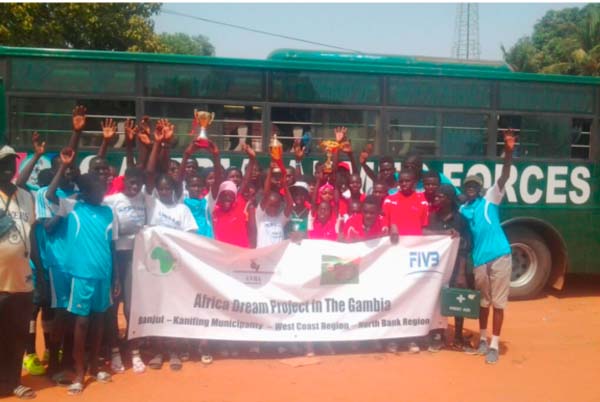 Farafenni in the North Bank Region of the Gambia hosted the first edition of the African Dream Project inter-center volleyball festival at the weekend.

Under the auspices of Gambia Volleyball Federation the weekend volleyball festival symbolised unity and friendship among the participants and it also paved the way for the official launching of the project in rural Gambia.
More than 150 children from West Coast Region, Kanifing Municipality, Banjul and host North Bank Region joined others to celebrate the success of African Dream Project three years into the implementation.
The festivals also signify the long proposed decentralization of volleyball as rural people have begun to embrace the sport with more than 50 kids from the nearby villages expected to join the project in the region soon.
A day-long competition was staged for the participants to showcase their talents and the skills learned for the past three years.
Speaking at the event the Project Director, Bai Dodou Jallow, stressed his Federation's willingness to continue developing the skills of the participants at all centres.
"It is a commendable move and I must say I am impressed with the Gambia Volleyball Federation for the rapid change made in Gambian volleyball and this project is worthwhile," Bai Dodou Jallow stated.
"This is a historic passage in the journey to world championship gold podium and I am with the strongest conviction that the Dream Project will soon be a reality project in Gambia.
''I believe this will open an era of triumph for the Gambia in years to come.''
He heeds on the commitment of the participants and advises them to be punctual.
"The future of volleyball in The Gambia now lies in our hands," she concluded.
The councillor of Farafenni ward, Mamaye Jagne, thanked the GVBF for the initiative and reassured them of his support and willingness to monitor the project in the region.
"Farafenni will now play a leading role in the development of volleyball and we will be a pioneer of the decentralization process Jagne, added.
"A new wave of development is blowing and we must go along with it to be number one," the councilor of the ward concludes.
Participants also joined other speakers to express their appreciation to the organizers.
Fatoumatta Sillah of West Coast Region said she was happy to be part of the first edition of the festival and urges the National Federation to do more for the participants.
Sillah, who was voted as the best young player of the year in The Gambia in January, was part of the West Coast Region team that beat Banjul in the female final.
And Kanifing Municipality lost to Banjul in the male final, however all centres were awarded a trophy thus the slogan ''everyone is a winner''.
The festival was fully funded by Gambia Volleyball Federation with support from former Gambia Armed Forces' CDS Ousman Bargie and the Kansala Water Company.
Read Other Articles In Article (Archive)