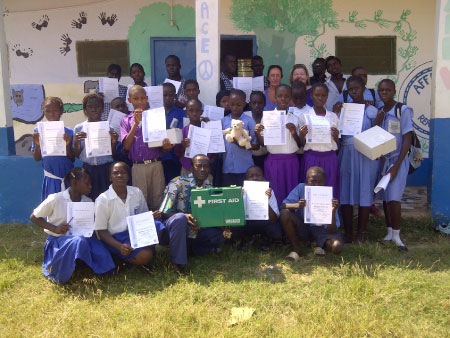 A first-aid training organised by Ainaw Badjie Foundation, for students from five schools, on Thursday ended at the Bakau Lower Basic School grounds.
The participants came from Bakau Lower Basic School, Bakau New Town Lower Basic School, Bakau Upper Basic School, Old Jeshwang Lower Basic and Abuko Lower Basic School.
Speaking at the training, Ms Jery, a volunteer at Ainaw Badjie Foundation, said she has not only been training students on first-aid approach but also on health issues and other areas.
For fourteen years, she has been training people on first-aid, she said, adding that she has been coming to The Gambia twice yearly for seventeen years now.
Kebba Jobe, adviser and senior coordinator at Bakau Lower Basic School, said the training was organised for a single school but that this year they have decided to invite four other schools to make it five schools.
He added that after the training, students who benefited from it, with the materials given to them, will be helping to take care of other people within their schools that suffer from minor injuries.
At the end of the training, all the students who took part in it received certificates for successfully going through it, and each school went home with a first-aid box.
Read Other Articles In Article (Archive)