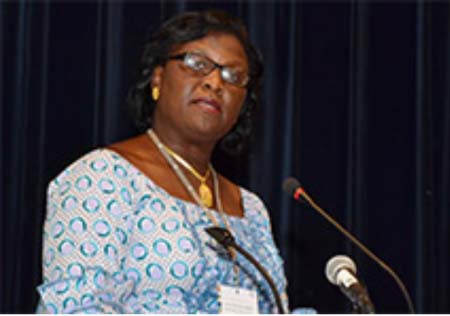 (Issue, Friday, 16 September 2016)
A three-day high-level seminar on a cyber-security framework for financial services is underway at the Paradise Suites Hotel in Kololi.

The regional course organised by WAIFEM and hosted by the Central Bank of The Gambia, seeks to expose participants to the threats posed by cyber-crime to organisations and measures to mitigate these threats.
In declaring the high-level seminar open on behalf of the Governor of Central Bank of The Gambia, the second deputy governor, Oumie Savage Samba, said cyber security is no longer a pure computer security issue, but also a national policy matter because the illicit use of cyberspace could hamper not only the success of an organisation, but also the economic, public health, safety and national security activities of a country.
"Therefore Chief Executive Officers and national leaders are accountable for cyber security to forestall the consequences of cyber-attacks," she said.
Cyber-attacks, she noted, could result in loss of confidentiality, integrity and/or availability of valuable information and electronic data, loss of access to the organisation computing network, and lawsuits, loss of public trust, prosecution, internal disciplinary action or termination of employment.
The CBG deputy governor highlighted some of the cyber safety threats as viruses, hackers, identity thieves, and spyware.
In his remarks on behalf of the Director General of WAIFEM, Ousman Sowe, Director of Financial Sector Management Department, said the institute commenced training activities in April 1997.
It has since organised over 566 training and capacity programmes in the form of national and regional courses/workshop for a demand assessment, institution building and follow-up missions, senior policy and inter-regional seminars.
He said the institute has since inception enhanced the knowledge of over 15,390 middle/senior executive level officials, legislators and journalists predominantly from WAIFEM constituent countries, and a sizeable number from other sub-region in Africa and Latin America.
Mr Sowe further said WAIFEM has also built collaboration arrangements with a number of reputable institutions to ensure high standards in its programmes.
These include the IMF, the World Bank, the African Development Bank (ADB), the United Nations Institute for Training and Research (UNITAR), Commonwealth Secretariat, African Capacity Building Foundation (ACBF), United Nations Economic Commission for Africa (UNECA) and currency research.
"These collaborative technical partners find in WAIFEM an effective and efficient platform to reach many more West Africans, while the Institute in turn finds in them a source of cutting edge knowledge, skills and support with which to enrich our programmes."
The overall aim of the seminar, he pointed out, is to expose the participants to the threats posed by cyber-crimes to organisations and measures to mitigate these threats.
Accordingly, he said, the broad themes to be covered include overview of cyber security concepts and drivers in the financial services industry, the rapidly developing scope and nature of the threats to cyber security, among others topics.
Read Other Articles In Article (Archive)