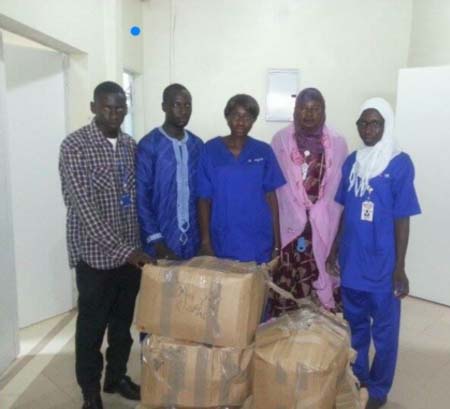 (Issue, Friday, 16 September 2016)
Bright Future Foundation the Gambia, a Charitable organization geared towards helping the needy particularly children, yesterday donated clothes, shoes, and toys to children and maternity wards of Jammeh Foundation for Peace and Serrekunda General Hospital, as well as SOS Children Village in Bakoteh.

Speaking at the handing-over functions held at the various hospitals, Mr Ismaila Ceesay, president of Bright Future Foundation the Gambia, said the donation is geared towards helping the needy and under privileged.
"We are conscious that contributing towards National Development is everyone's responsibility, which is why we are always out to help the needy and the less privileged," he said. "Before we used to give it to the schools such as GOVI but this time we decided to add the hospitals especially the children and the maternity wards."
He said they would continue to give more support to ensuring quality life for the poor and needy.
He said the worth of the donation, which included clothes, shoes, toys and other materials to hospitals, the SOS Children Village and to other needy children, was D250,000.
They also donated jerseys to Insight Training Centre football team, he said.
Alieu D. Badjie, Public Relations Officer at the Serrekunda General Hospital, said they were happy to receive the donated materials from the foundation.
"Health is expensive and no one person can do it alone," he averred.
He said the donated materials would be great help to the beneficiaries, for which he thanked the donors and promised that the items will be put into good use.
Aisha Ndimbalan Matron at JFP said in her remarks on the occasion: "We are delighted to receive the donation. The mothers and the children are very much happy to receive the items. As admin we are very much happy to receive you and we pray for you to come back again to help us go from strength to strength.
"Being a very new facility we are treating lots of patients around. As an old Facility too we usually received 5000 deliveries the whole year and 40,000 outpatients a year; so this donation is timely because our catchment area is very bulky, which is 150,000. We thank you for the donation."
Amie Njie-Touray, Senior Nursing Officer, head of maternity at JFP, said: "You are in the same line with us because this hospital is viewed to be a maternity hospital where women and children are being cared for and if you have children in mind definitely then we are under the same umbrella."
She said further: "We assure you that the items will be put into good use. We are grateful and hope this is just the beginning and that we will receive such gestures from you in the future. We thank you on behalf of the mothers and children of this hospital."
Read Other Articles In Article (Archive)