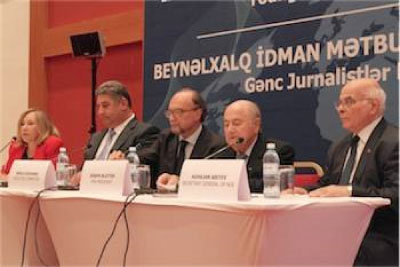 International Sports Press Association (AIPS) young reporters programme was officially opened in a memorable way by the president of FIFA Joseph .S. Blatter on the 22 September 2012 at the Park inn hotel is Baku (Azerbaijan), the second edition of the young reporters programme.
Speaking at the opening ceremony, FIFA's president was please to be with journalists as he was once a journalist and steal a member of the AIPS. The full text of the speech reads:
For the young people to see not for the executive committee they have altogether about 1000 years of sports journalism and this is easy but for the young people coming from all around the world and this is the main goal of the AIPS.
AIPS has something more special because it is not linked with one specific media company but it is independent, people from all the continents are here. I like this because it is universal organisation and we at FIFA we support this organisation because it is so important to have independent journalists around the world, especially sports journalists.
Journalism is not a job but a mission, So when you are now in sports journalism please I just want to say don't fix yourselves only on the results but have a look into where the sport can gain and change people's life as we may not know sports is a phenomenon of our society and all sports touch all society.
Remember the most important thing in sport is participation in our society and emotions and we can give emotions. Another faction and problem that affects football is match fixing.
Match-fixing
Ladies and gentleman, the essence of the game is that you don't know the issue before it starts. That's the basic condition to have, and if you know before the game starts, before the race is starting, who will be the winner? Then something is totally wrong and we can fight against this devil in our game. This is coming from illegal betting and because of the popularity of the sport; otherwise if it was not popular it would not happen. All those that are involved in match fixing are band and I say they are band forever.
Because we need it, we need more than that; we need solidarity. Big associations have had this problem, even in Italy we have to name them - it's not the focus of one smaller whatever. Switzerland in the second division, maybe paradise you can see, but what we need here is solidarity amongst the three hundred million people involved in the game.
You shall expose everything: we need the media, we need the press and we need the written press and here I appeal to you.
Women's Football
Here we are in women's football U17, all continents are here; Africa has The Gambia, Nigeria and Ghana.
Read Other Articles In Article (Archive)