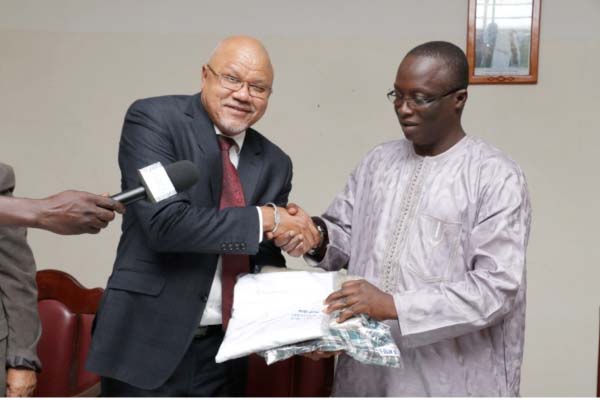 First International Bank (FIBank) yesterday presented hospital materials to the Edward Francis Small Teaching Hospital (EFSTH) in Banjul.
The materials are meant for use in the neo-natal unit of the hospital, as part of the operation save the children project.
Prof. MIA Khalil, chief medical director at the EFSTH, hailed the bank saying the donation is an indication of the company's commitment towards health delivery in the country.
Momodou Musa Njie, managing director of FIBank, said his company "is very passionate" about the social wellbeing of children.
"That is one reason why the bank was well represented at the official launching of the Operation Save the Children Foundation at the Kairaba Beach Hotel in November 2014; we were the only bank present on the day," he said.
"Just to back up FIB's passion for the future of our children, as far back as 1999, we introduced a product called 'Minor Savings', which is a savings account to secure the future of children," Mr Njie further said.
The FIBank MD said the minor savings account was supported by the introduction of another account called Child Trust Fund.
"All these are to encourage parents to secure the future of their children," he said, adding that the donation to the EFSTH is another confirmation of the bank's commitment to the welfare of children and their caretakers.
Fatou Mass-Jobe, executive director of Operation Save the Children Foundation, commended FIBank for the donation.
She said Operation Save the Children Foundation focuses on full protection of children from all forms of exploitation.
Madam Mass-Jobe further explained that the foundation also ensures that children's health and education and all special needs are met.
She pointed out that barely a month after the launching of the foundation, the First Lady donated "a substantial amount of funds" intended for the rehabilitation of the neo-natal and pediatric wards of the EFSTH.
Omar Sey, minister of Health and Social Welfare, said the intervention area of FIBank is critical to the operations of the neo-natal unit.
"We are really grateful as a country and as a ministry and we thank you [FIBank MD] and your team for the donation of these materials," he said.
Read Other Articles In Article (Archive)