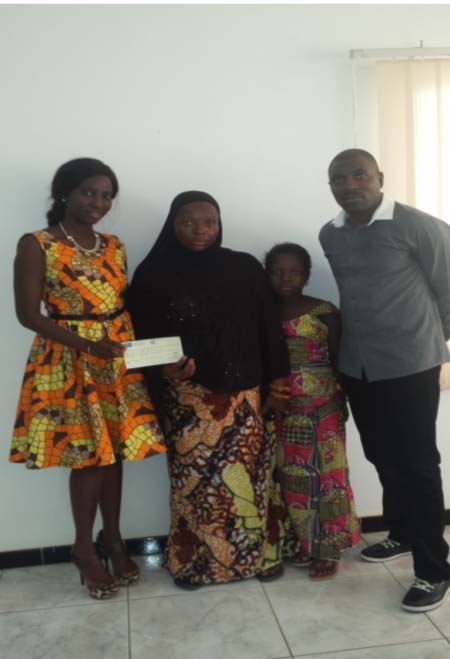 Capital Express Insurance Company Ltd Friday presented a Bank PHB cheque for D41,961 to the late Ismaila Drammeh's family who agreed to sign a contract of six years with them in which he made only two payments in September and October before he passed away.
The cheque was handed over to the wife of the late Ismaila Drammeh, Mariama Darboe, and Fatoumata Drammeh, the daughter.
The cheque presentation was witnessed by Alfusainey Sanyang, who was a friend of the husband and a co-worker.
Mr Kunle Oyinloye, head of Technical, said they paid the family of the late Ismila Drammeh who happened to be a policyholder with them.
He took the policy on September 2013 and the claim supposed to run for six years before maturity if he were alive and would be entitled to forty-one thousand, nine hundred and sixty-one dalasi (D41,961).
He said insurance is a pool from where they pay the unfortunate ones from the fortunate ones.
He disclosed that the plan of the man was to guarantee the children's education; so they advised the wife not to see the claim as her personal money but let the dream of the man be fulfilled.
Isa Thomas, head of corporate affairs, said they at Capital Express Insurance are proud of themselves as they make payment for all genuine claims and this was one of those they had fulfilled.
She said they ensured his wife and children have something they could use to build up their future, adding that this was the essence of having a life assurance policy.
They encouraged everyone to try as much as possible with as little as D300 to set aside for personal use or for child education and for the future, as nobody knows what tomorrow holds.
Mariama Darboe, wife of the late Ismaila, said she was happy with the company and urged people to join it because no one knows where one is heading to, adding that one might leave children behind and this would help them greatly.
Alfusaine Sanyang, who witnessed the presentation, said Capital Express was among the insurance companies he was making savings.
He said he was grateful the promise made by the company was fulfilled.
Read Other Articles In Article (Archive)