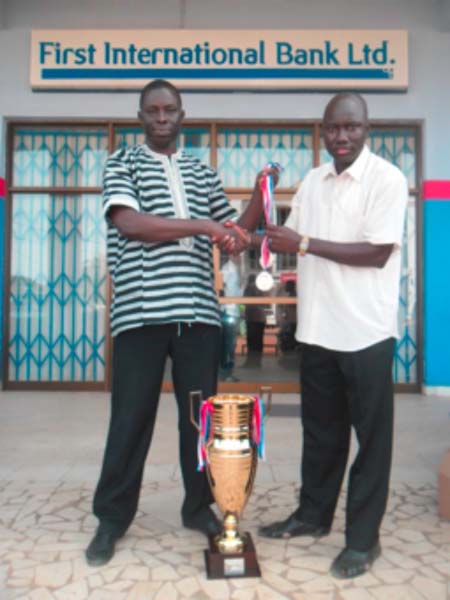 First International Bank (FiBank) on Friday donated a giant brand new trophy, 60 T-shirts and 72 medals (36 Gold medals and 36 Silver) to the Gambia Football Federation (GFF) in preparation for the 2014/2015 FA Cup final championship.
Speaking at the handing-over ceremony held at the FiBank Head Office on Kairaba Avenue, Sambujang Drammeh, head of Brand Marketing and Communication at FiBank, said they decided to giveGFF the materials because of the existing cordial relationship between them.
FiBank managing director is a footballer and a former Gambian international player, which is why he is committed to the development and advancement of Gambian football, he said, adding that they hope the materials will be put into good use.
He also encouraged private businesses to come on board and give maximum support to GFF.
The GFF consists of a new executive that need support, he observed, saying people lost confidence in the federation but the present executive are restoring the confidence.
Government alone cannot do it all, which is why they decided to come in to contribute their quota in the development of the country.
While the donation is nothing big to them as an entity, the bank looks forward to doing more and maintaining a brighter relationship with the GFF.
Bakary B. Baldeh, GFF publicity/marketing officer, in receiving the materials, said the GFF were very much pleased to partner with FiBank to help them finance some of the cost of the FA Cup final.
"It is just a one-match event but it entails a lot of visibility, which we really want to associate with FiBank as part of our new branding strategy," he stated.
The idea is to build a foundation below ground level, he remarked, saying they shall give FiBank "all the visibility and monopoly" to expose their services and products.
FiBank are genuine and potential partners, which is what the GFF leadership expects from every stakeholder, he went on.
It is the vision of the GFF to have a partner associated with every event, BB Baldeh pointed out, saying they "are very thankful" to FiBank through their management and staff, especially the Marketing and Communication Unit of the bank, to ensure their finances are disbursed on time.
He also thanked the bank's Managing Director Modou Musa, who is also part of stakeholders moving Gambian football in the right direction.
"It is our conviction that other financial institutions would emulate FiBank to partner with the GFF in all its programmes and events," he said.
Read Other Articles In Article (Archive)